45mm gauge track - approx 16mm scale (1:19)
A few months ago I bought a partial Brandbright Kit of a W&L Third Class Saloon - PS24 - on eBay. I bought it on bait of whim - it was stated that the kit was incomplete, and from the pictures looked to have a roof and a good number of white metal parts, but no other big bits. So I thought, worst case, I'd get a bunch of useful parts - I think it wasn't too expensive.
It turns out that the kit is complete - apart from the floor, sides, ends (there is one end with door), sole bars, buffer beams and bogie supports. So some absolutely critical bits are missing. But the only difficult bits to reproduce are the sides and and ends - with all the cut outs for the windows.
So I'm going to give it a go!
It is a very long coach at 57cm - length deduced from the roof. That's 5cm longer than my Brandbright VOR coaches, but I mocked up a floor and chassis and it does look like it will make it round my railway.
It does fit my narrow ish gauge GWR theme so should be a nice addition. I don't anticipate a rake of these, because it isn't currently in production by Brandbright (Accucraft RTR models are available though), so I'll probably run it as a short mixed train - maybe with a guards van and parcels wagon. I'm getting carried away here - need to build it first!
I've already cut a floor from 3mm Obeche - my usual and will build up the under frame first. I've bought a pair of bogies and accompanying wheels from Tenmille.
My plan for the sides and ends is to design them on the computer and then print out templates to cut around - this is a tried and tested method for me. To create the panelling I'll cut out a top layer from thin plasticard using my vinyl cutter. I should be able to figure out dimensions from the parts I do have.
I must say that there's nothing particularly sensible about doing this. It would be cheaper and much quicker to just buy an Accucraft coach. In any case I don't have anything W&L to go with it. It's just that it appeals to me get the kit built - to not let it go to waste. So I'll update my progress here. Hopefully I'll get a bit done over the next few days, but after that it won't be fast - too much else on.
For now, here's what I got in the kit.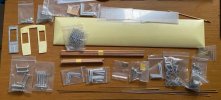 And here is one of the bogies, ready to go...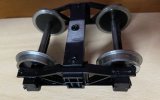 6