British narrow gauge (esp. Southwold and W&LLR)
For the past few weeks I've been beavering away quietly - trying to draw, print and construct a model of one of the original Southwold Railway six-wheel coaches. I'm almost there!!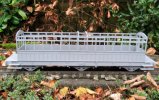 The trickiest part has been trying to modify the six-wheel Cleminson undercarriage to enable it to negotiate the tight curves (approx R2) on my railway.



This has necessitated moving the two swivelling end single-axle bogies in closer to the centre by 35mm and also widening the centre sliding truck by 15mm each side. It's fascinating watching the centre truck sliding across as it travels around the track. I still need to add some sort of compensation to the outer 'bogies' to ensure they remain in contact with the track as it traverses some of the more uneven sections of my trackbed and also, of course, the bodywork needs finishing off, but it's an interesting, if somewhat different, challenge.
Rik
16

6