idlemarvel
Neither idle nor a marvel
Although light signals are generally used on main lines, many narrow gauge lines use them extensively, thinking of HSB, RhB and Zillertal as examples. In my layouts I like to model the signalling as well, so I have been on the lookout for "off the shelf" signals for a while. The only LGB offering is the RhB colour signal. I came across these from a company called GSSB on the grootspoor web shop:



As far as I know grootspoor is the only retailer that sells them. There is no further information on the "company"; I found out from Michael (owner of grootspoor) that GSSB is a one man band that produces signals to order, so be warned that should you want any, you have to be prepared to wait several weeks, in my case 5 weeks from order to home delivery. This is how they compare in size to an LGB RhB signal: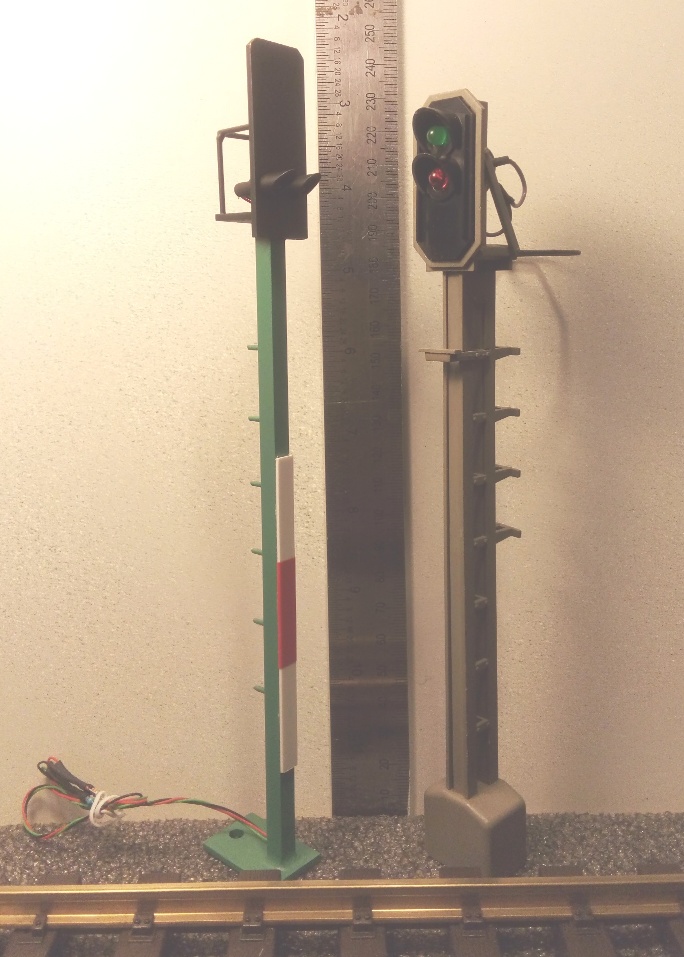 I ordered a crossing signal (Bu 0/1), a couple of block signals (Hp 0/1), and a point monitoring signal (So 18/b). If you want to see the full range you can find them here:
https://www.grootspoor.com/eng/catalogsearch/result/?q=gssb
They are 232 mm high apart from the latter which is 195 mm high, which at 1:22.5 makes them 5.2 m or 4.4 m tall. The signals, mast, rungs and base are made of brass and are quite substantial and weighty. The masts are painted grey, or green in the case of the DB block signals, and the heads black. The signal plates (colour stripes along the mast) are thick white plasticard glued on with epoxy resin. The lights are LEDs with protective resistors in place. They use common positive and run off 12-24v DC or AC, although the flashing light (crossing signal) needs DC or rectified AC for the flashing to work. The cables are colour coded (black positive common, red, green or grey negative for each light.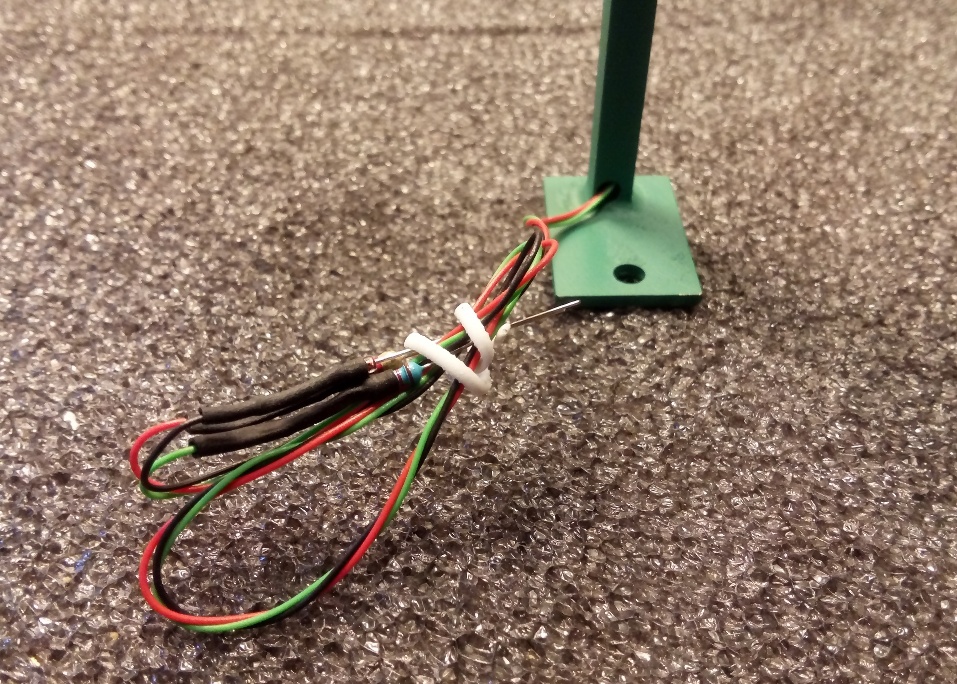 The LEDs are quite bright certainly fine for indoors. I am not sure about outdoors but then this is an issue with any outdoor scale model colour signals. It's quite hard to see them in bright sunlight and you have to be more or less in direct line, the driver's view as it were, like the prototype. That's why I use semaphore or static signals for my outdoor layout, but that's just my preference.
The block signal has a red and a green light, with colour coded wires. The crossing signal has one white light, which flashes approximately every second (logic for that is inside the signal). The point monitoring signal has two white lights, and either just the right one or both lights should be on. They both have grey wires so a bit of trial and error is required to find out which is which.
The only instructions came in a short hand written note, in German. Luckily I speak enough to get the gist of them, but they are short enough to type into Google translate!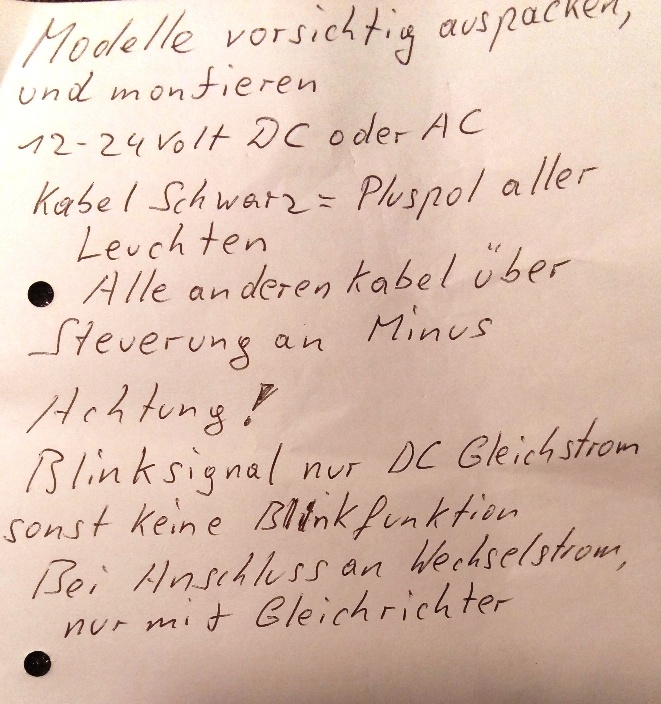 Finish wise, my only criticism is the colouring of the signal plates. For the red and black stripes he has used insulating tape wrapped around the plasticard. Quite effective but a bit naff, and I wonder how long that would last outside.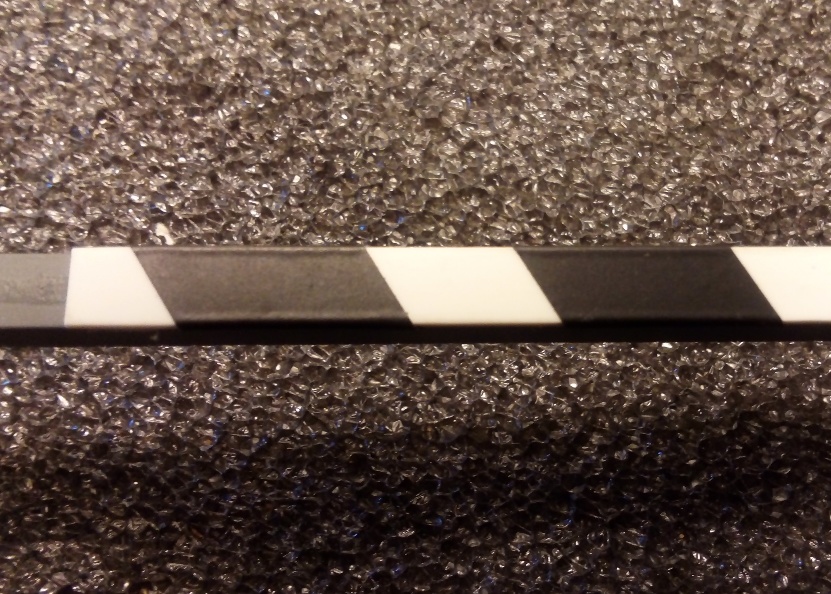 He obviously could not source orange insulating tape so for the point monitoring signal he has painted on the stripes, but it could do with another coat.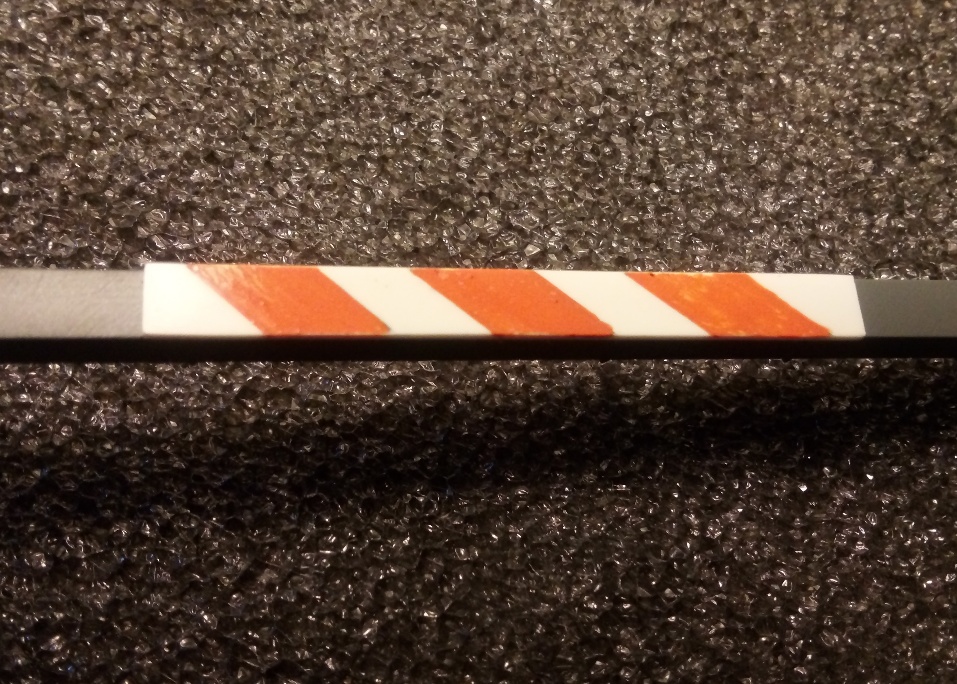 This is a shame as his hand-painting of the yellow border and disc of the crossing light is very good. (I keep saying "he" and "his" as I assume this is a bloke.)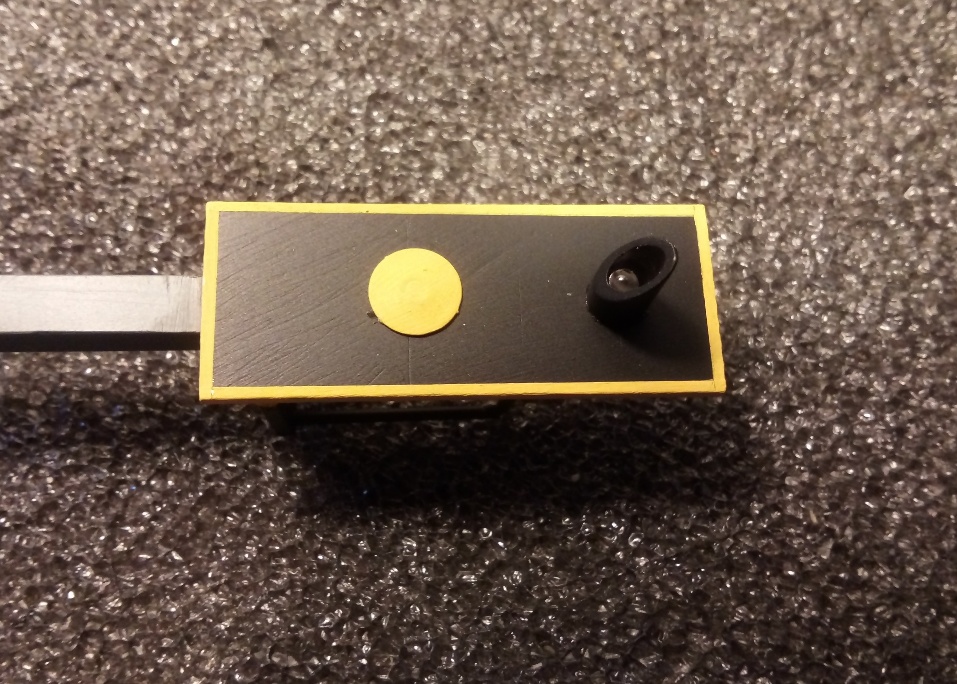 They are quite expensive at €40 each but they are hand made and thinking of the time it would take me (not that I can work with brass) it must be 2-3 hours work for each signal so that is not unreasonable IMO.
I tested them using a Massoth 4 switch decoder. These can be configured to drive point motors or lights or a combination of both. In this case I wanted all four outputs to drive lights. I programmed the addresses (CV 32, 34, 36 and 38), set the switches to continuous output (CV 51-58 = 0) at full voltage (CV 71-74 = 15), and turned off the contact switches (CV 61-66 = 0) and timers (CV 75-77 = 0). I run my layout at 19v DC input to the command station so by the time it has been through the DCC circuitry the decoder produces about 17v DC output. Taking the block signal I attached the black lead to + and the red and green leads to SW1 outputs.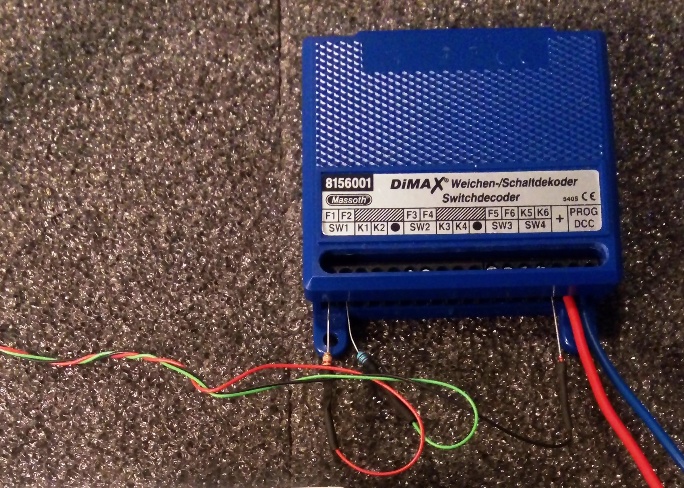 Here are some of the signals illuminated: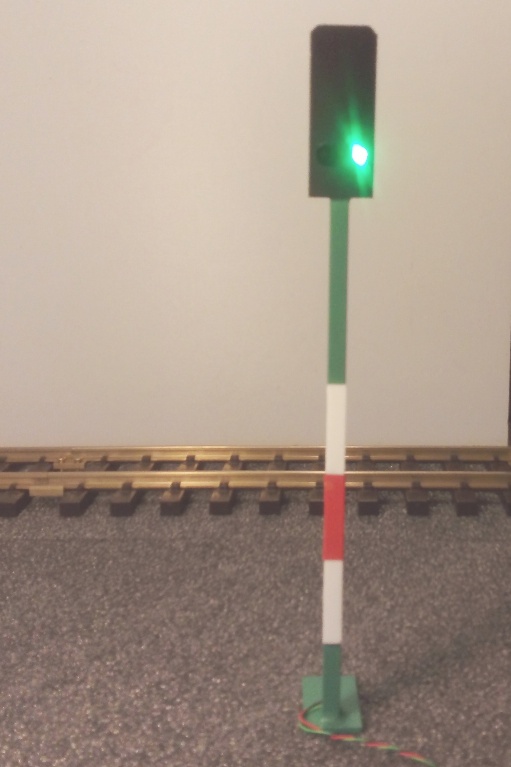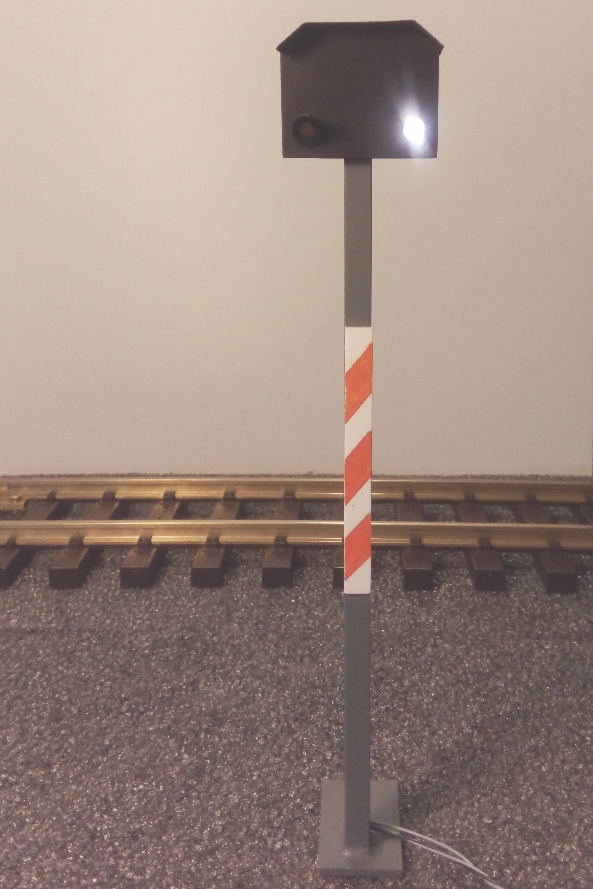 In summary, these signals look the part and operate very well. They are very solid construction and would be fine for use outdoors, notwithstanding the comments about the lights being visible. With some touching up of the paintwork they look pretty good. Big caveat is that should you be unhappy with your purchase or need any support, you have no way to contact the supplier except via grootspoor, as there are no contact details provided with the products, not even a name! I'm not sure what help or support you might need with something so simple, but it is a consideration.