Gavin Sowry
Garden Railroader and Raconteur
27 Oct 2009
6,692
2,156
67
A train show, a real live trains show, with thousands of visitors. Yes folks, that's what we have just closed up on at our local Stadium.
Rail-Ex 2020 (the New Zealand version) was a roaring success, well the echo continues tomorrow as we are doing a 'community service ' event for some of the schools.
Here;s some of my pics from today.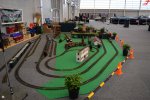 Best put this up first (to curry favour with you blokes), the Wellington Garden Railway Group. All photos taken in down time, by the way... too busy when the punters were in.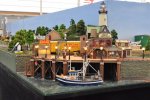 This little cameo was placed to attract maximum attention (hence the photo). HO scale.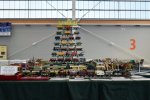 Missing, one letter from HMQ. Yes, 100 years old, Hornby. In the box at the front was an actual 100 year old train set.
8