American Railroads, Swiss Railways, Travel
Ophir Extension​
An update from the Mooseville and Rio Grande Railroad. After saying many times that I would not extend the railway out onto the large lawn, I did it after all, because, reasons:
1) My train buddies were giving me a hard time because I could not turn the trains around on my railway. They always had to run in the same direction, the way there were placed on the tracks. Some friends here on G Scale Central also have pointed that out after seeing my track plan.
2) I was researching the railroads of Colorado and discovered the Ophir loop on the Rio Grand Southern. What a unique spot! There is so much going on in a small space. I started thinking about modeling the Ophir loop in G-Scale.
3) I saw that Banta Modelworks now offers the Ophir loop depot in G-scale!
The Ophir loop used to look like this: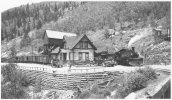 This is what it could look like in my garden:
The new track plan:

I inserted a switch where the track goes into the indoor yard, laid tracks along the garden wall and made a large loop on the lawn. I also installed a Why at the corner of the garage, so trains coming from the loop can run either way round the rest of the layout.
First Willy the builder and fellow model enthusiast came over with small digger:

We dug a ditch on the lawn so I can build the trestles at each side of the Ophir loop. The wooden bridges are temporary. I plan to build the trestles next winter.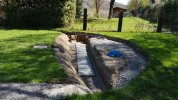 Currently I am pouring concrete for the depot foundations. And building the depot.



That's the update so far. More to follow this summer.
5

3