I found this MerchSource LLC train (AKA "Blue Hat North Pole Junction Christmas Train" ) for about $1. I liked the sound system and thought that if nothing else I could re-use the sound system in another train: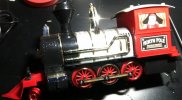 But I had an extra playmobil cabin and thought I might try to do this to improve the appearance and make it useful: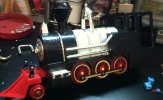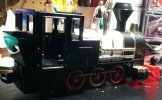 It seems to fit well without any modifications to the playmobil cabin... I only modified the boiler and chassis of the $1 train.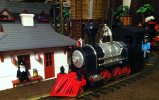 I was thinking of adding all sorts of detail( repainting it, adding firebox lighting, steps, more LED's, etc.) but then I discovered a problem I should have checked for before starting:
The wheels don't fit on G-scale track! I don't know if I can shorten the axles because the wheels are so close to the motorblock. For $1, If I can't make the wheels fit on g-scale track, at least I can harvest the sound system. I'm glad I didn't need to modify the playmobil cabin in case I can't use this train.
2