I replaced an LGB 55021 with a Massoth EmotionL in a single motor tender. The wiring is identical. It seems the Massoth has more CV settings and functionality.
I am using MTS III as the central station. I programmed the CVs using Herr Schwartz's Stellwerk software. I have used that before to program other decoders and devices.
With the Massoth installed, the tender will only respond to Forward. The reverse does not work.
It is possible I damaged the unit when I first installed it. I had a electrical short from White to Yellow. I corrected the short. I am hoping the protective circuity saved it.
Before I order another one, I wanted to ask if anyone knows of a particular setting I should have must be set to enable reverse?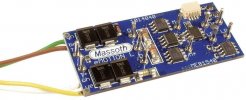 1