If i would like to have a couple of turnouts that are easy to reach, then I wouldn't have thought about this.
There are some simple and very good solutions for a turnout to direct your train to a other track, the most genius and simplest of them all: a simple spring on two sleepers.
I think one of the forum members here, come up with that idea.
For turnouts in nasty corners or out of reach, i thought of motorising them with those simple Arduino motors with a reverse polarity switch and add some "one click switch"(?pulse switch?)incl with some battery's( i dont like wires that are way to long).
I even made a setup experiment with some 18650 li ions, a 2 s bms and a small solar panel, it did the job very good, except the motor is a bit to strong.
The arbore resistance of the dc motor is strong enough to hold the points into place without any power.
But when it must be set on a other track, the kick of the dc motor is just to strong, it will do a ~10 to 25 times its job before you will need to repair the mechanics or a sleeper, motor will be fine.
I even experimented with a home made solenoid, wind copper wire around a nail---> surprise the battery's are dead in no time because it needs power all the time.
Or drool to expensive solutions, no problem if you have a couple of scissors crossovers.
But not for what I want to achieve..
I had an idea at work this afternoon.
With just 2 syringes and a water filled tube.
No compressed air, you will need to much equipment and or other stuff, water and oil are liquids that you can not compress.
I think this is workable?
The experiment did work, again and again and again, spend 5 minutes with it, back and forward, back and forward, ect.
I only need to secure the turnout mechanism and the "cylinder switch"
Take out the plunger and take of the rubber.
Fill the hose with water or oil.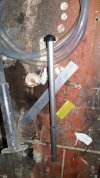 Make your throw bar from 6mm dia alu pipe.
I did not glue it together for this quick experiment, but i will for the real experiment.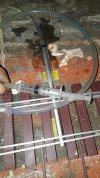 The points are still "relaxed" becous i needed to fix the syringe and adjust the bar to its starting point.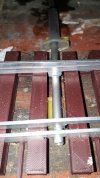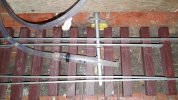 Syringe pressed in to build up pressure to press the points against one rail.
Syringe poled back to create a vacuum.
Now those points look out of shape and bend but the box of nails is holding the syringe down to the bench so it lifts up the throw-bar.
And it is abs 3d printed, looks nice but you dont want to have this in your track as i stated in my track making topic, a scissors crossover is really at the limit due to temp differences.
What i can think of the down sides:
It can freeze up, or going to be to hot in the full sun - thin motor oil or silicone oil will be the solution.
Without properly connecting the hoses you get a leak, glue or something like a hose clamp.
Some oils will eat the rubber, some not
What i can think of the positive side:
Very cheap and
very
easy, 10 euro for 25 meters of hose and not even 1 euro incl shipment for 10! syringes, or ask your vet
What are your ideas to let a turnout work?
And your ideas/thoughts/comments about my idea?
With best regards Igor
Ps it toke me longer to make this post than to make the experiment
Last edited: