Hello all, I was going to ask if any of you could tell me why I had a tiny wisp of smoke when attempting to charge my NiMh batteries in situ but looking at my wiring diagram I think I can see why.
Please correct me if I'm wrong but I think the battery should have gone to the centre contact and the output to the receiver to the top contact. The way I've wired it it would appear the charging voltage goes straight to the receiver
with the inevitable result.
Next question; does anyone repair these receivers? (RX65-22).
Thanks,
Les, feeling rather stupid at the moment.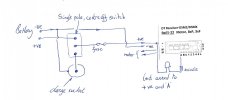 Last edited: