Hi all,
As part of my proposed 45mm / 32mm tramway I wanted to have a bit of interest at the mid point. I've settled on a operational tram shed with an adjacent semi abandoned 32mm yard with a disused station building. Looking through the boxes of 'carp' I came upon a vaguely art deco building facade from some unknown kids toy set. The area available is very narrow, so a low relief building would be ideal. I'm thinking of a half cylinder or square pagoda on top of the flat roof.
What I'm looking for is some images of a derelict / run down / abandoned building of a similar type.
If anyone has any links to or photos of such buildings, I'd be interested to see them. Particularly stained and boarded up ones.
Cheers,
Paul.
Bachmann engineer shown for scale.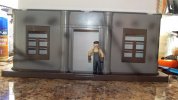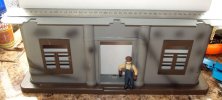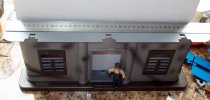 Last edited:
1