Semi-Retired; more time for trains.
I have eventually gotten around to my Steeple-cab conversion: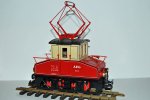 With the body removed I could see how much room I had for the battery pack and Rx. Using standard AA and AAA for size comparison it was apparent that a Li-Ion 4S pack made fro 14500 would fit in one side, the Rx I had decided on the Revolution Mini Receiver CRE57012S, and the switch and charging point a Micron bespoke item. I also decided that the 4 LED lights would be 2 wire bi-colour (White/Red) LED, and so would use the motor power so the colour would be switched by direction change. Due to the space I also made a conciousness decision not to fit sound, also I think I could get a speaker in the cab roof, and just about room for a sound card with the Rx.
First job is to remove track connections and pick-ups, quite simple, although a 3 pin motor block it was of the newer standard and not a clam shell type: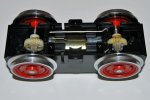 Trial fit of the battery, still tight especially with the BMS but it fits: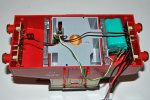 The original lighting board were discarded, but the lamp holders retained for the new lighting boards: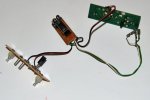 New lighting boards the same size as the original very made from veroboard, and the lamp holders added, then the system was assemble for the initial test: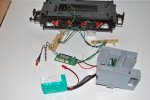 Now to pack this all into the body, point to note the wires need to be position so that they sit in the chassis well, otherwise they will prevent the body and chassis mating properly, or the cab will not sit correctly in position and the doors will foul:
I did have problems fitting the charging module, and had to move it further inside so as the doors would open and close, so a quick check to ensure I can fit my charging lead: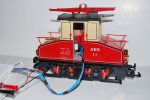 A (very shaky) video of the test run:
If you would like some more slightly in depth details please look at my blog on this conversion:
Having bought this Steeple-cab specifically for battery RC conversion, my first task was to determine what components I was going ...
tumble-down-falls.blogspot.com
10