dunnyrail
DOGS, Garden Railways, Steam Trains, Jive Dancing,
25 Oct 2009
14,840
354
71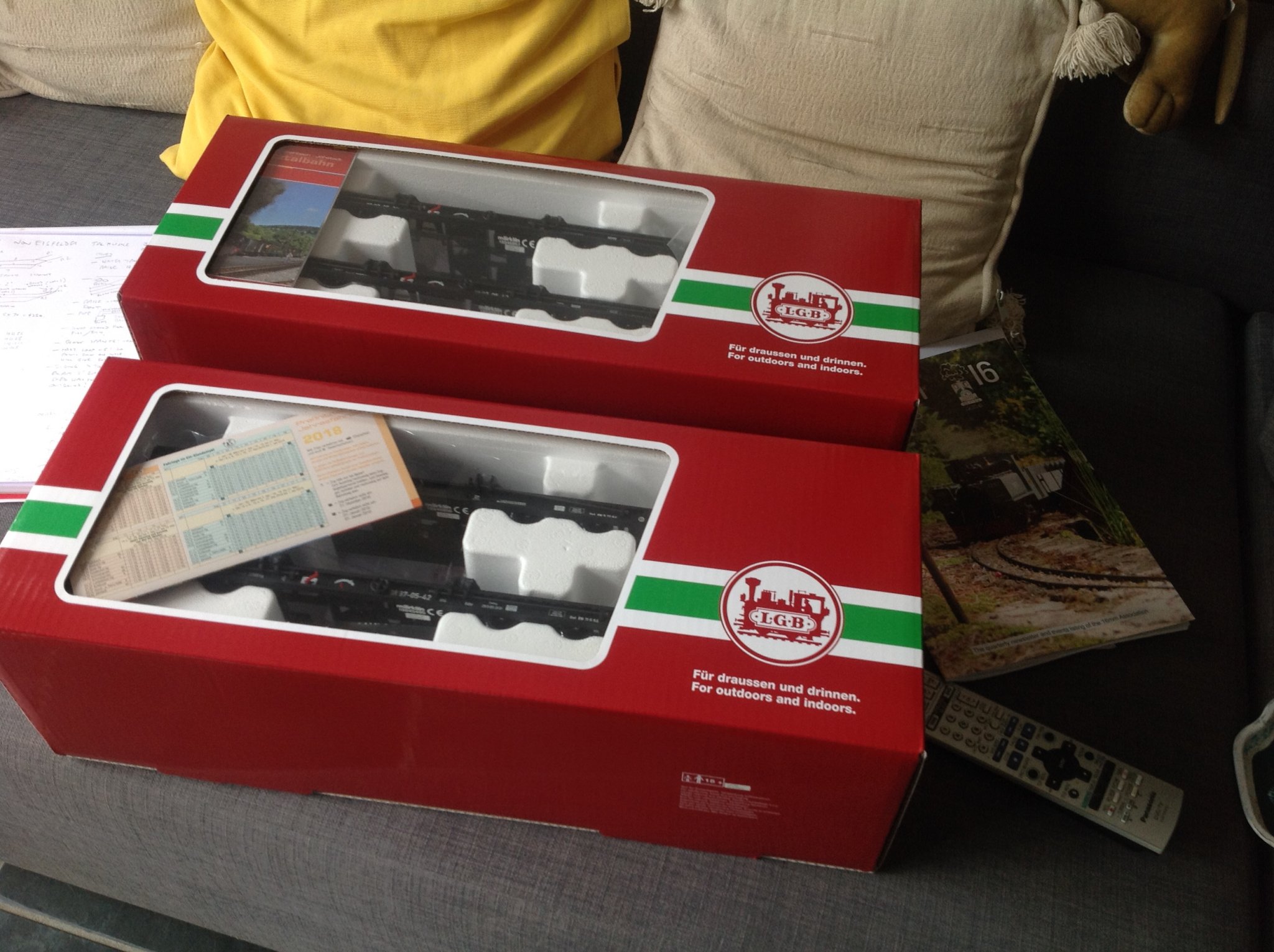 Lgb Rollwagens have been around for a few months now. Stockers did an early review possibly being one of the first on the Forum to get his hands on them. This is the link to that thread
Saxon Rollwagen, LGB 49180. A review. - G Scale Central
I did some time back produce a run of 3 scratch built ones, my thread on these is here:-
Rollwagenzug - Another Roll Wagon Project - G Scale Central
Earlier still James Hilton built one for his line that I unashamedly copied many of his ideas into my scratched ones. His thread is here,:-
Roll-wagen project - G Scale Central
Sadly a lot of his pictures have disappeared into the ether.
Then of course LGB announced a run of them and we all got very excited. Justifiably in my view. I will try not to repeat in this thread of my experiences what has been shown before so if you think I have missed anything likely it has already been covered in Stockers Thread.
First a bit of prototypical knowledge. These are indeed Saxon Rollblocks, I am using them on my Harz Line but to be pedantic they are the wrong sort being based upon 8 Metre Long Vehicles whereas the Harz Metre Gauge ones are all 9 Metres Long. I can live with the discrepancy as I guess can many others in the world of LGB Elastic Rulers. The numbers are DR 97-05-42 and DR 97-05-28. I assume that this will be correct for a Saxon 750mm Gauge one. Indeed I have seen a very similar vehicle at Kurort Oybin on the Zittau System as seen in the picture below.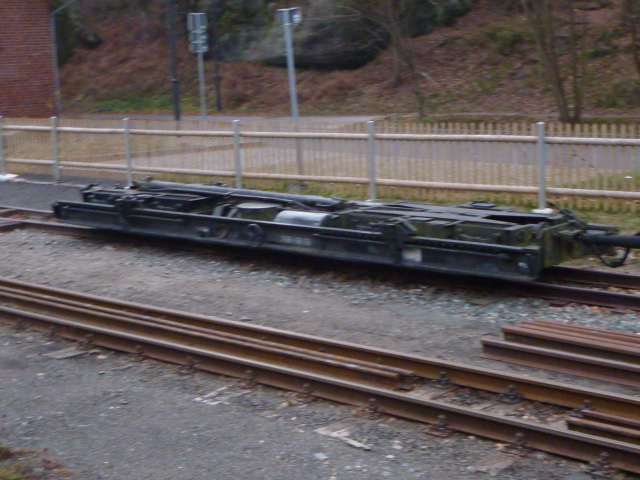 Below is a pic of a Train with a Single Rollblock being hauled by a Harz Kamel at Eisefelder Talmhüle. A very model able Train for us G Scale types. Note alsonthe end if Train Marker (Red and White oblonged plate on the SG Wagon).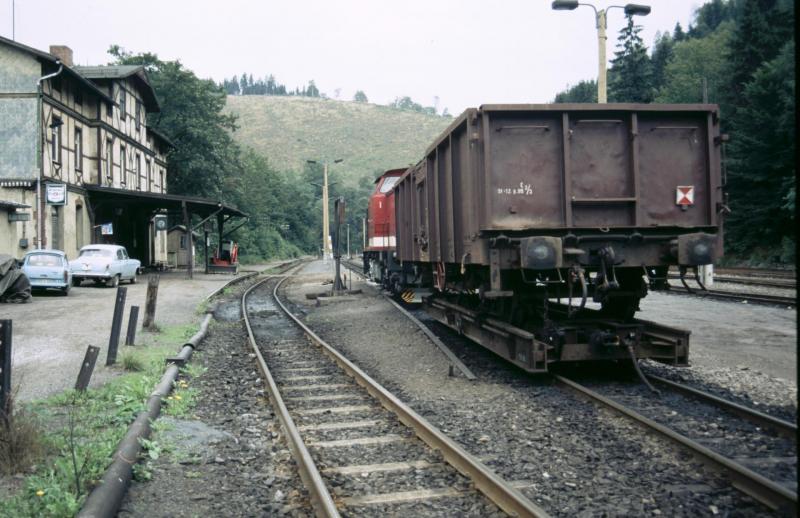 This brings into view quite nicely the fact that wagons of Standard Gauge are loaded onto these Wagons. LGB very kindly provide some adapters to allow 45mm Wagons to be loaded and very effective they look as this picture of a bashed Playmobil Wagon on my line shows.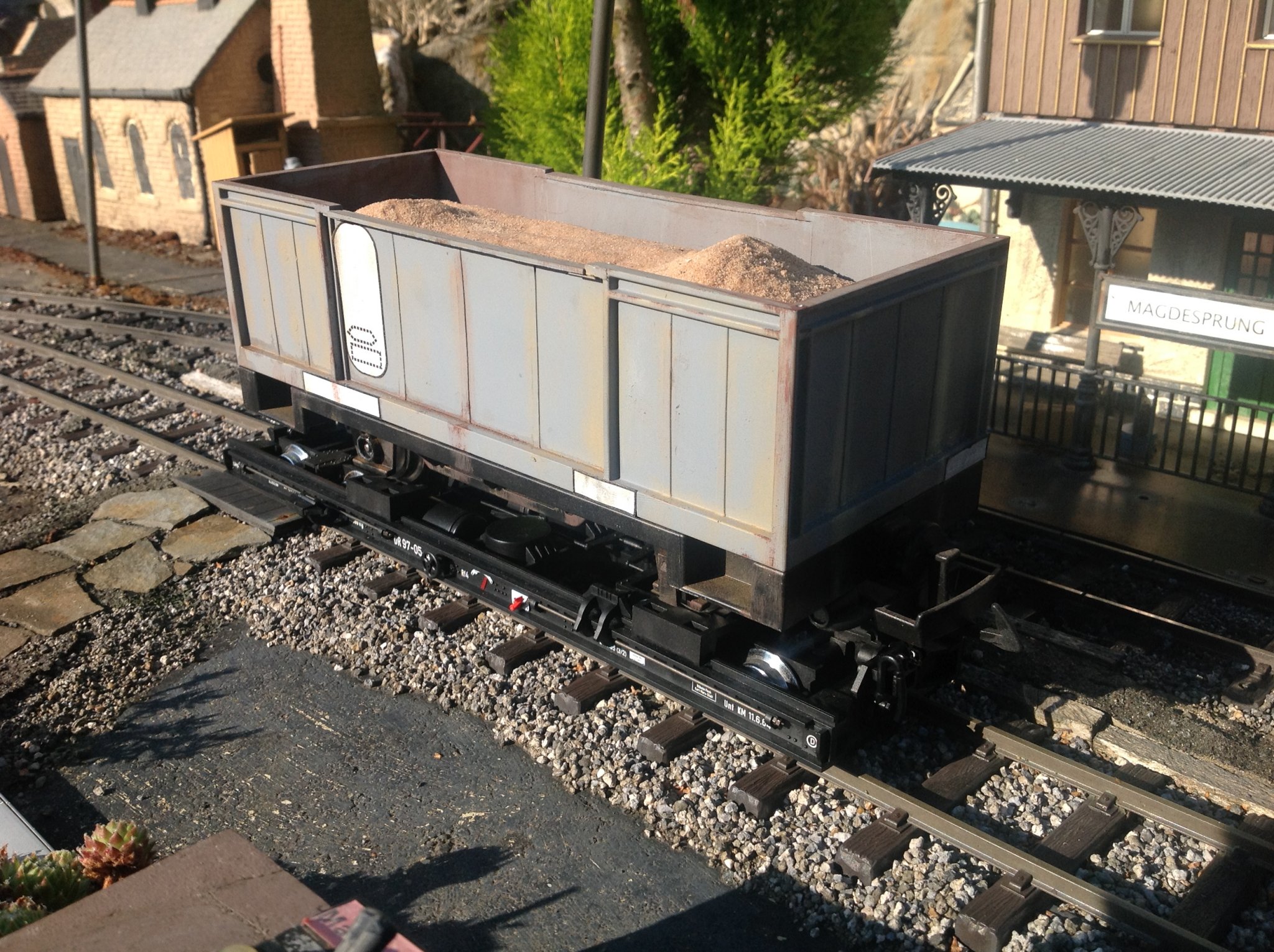 However that was not for me and I have converted 4 Wagons for Rollwagon Service. I deliberately chose 2 Piko ones and 2 LGB ones that all come with 2 buffers so that they can more effectively reflect Standard Gauge Wagons. Again there will be discrepancy in size but again I have to live with that, at least to my eyes with 63mm Gauge (approx) wheels things do sit correctly on my Rollwagens. However just regauging the wheels created an issue or two in that due to the thickness of both LGB and Piko wheels the tightness of clearances caused running problems. Thus my Rollwagens have been hanging around awaiting time for a fix. That fix was to turn down the Wheels to much finer tolerances allowing the Bogies inside the frame of the Rolwagens to turn without fouling the wheel flanges. The two pictures below show a then and after turning situation.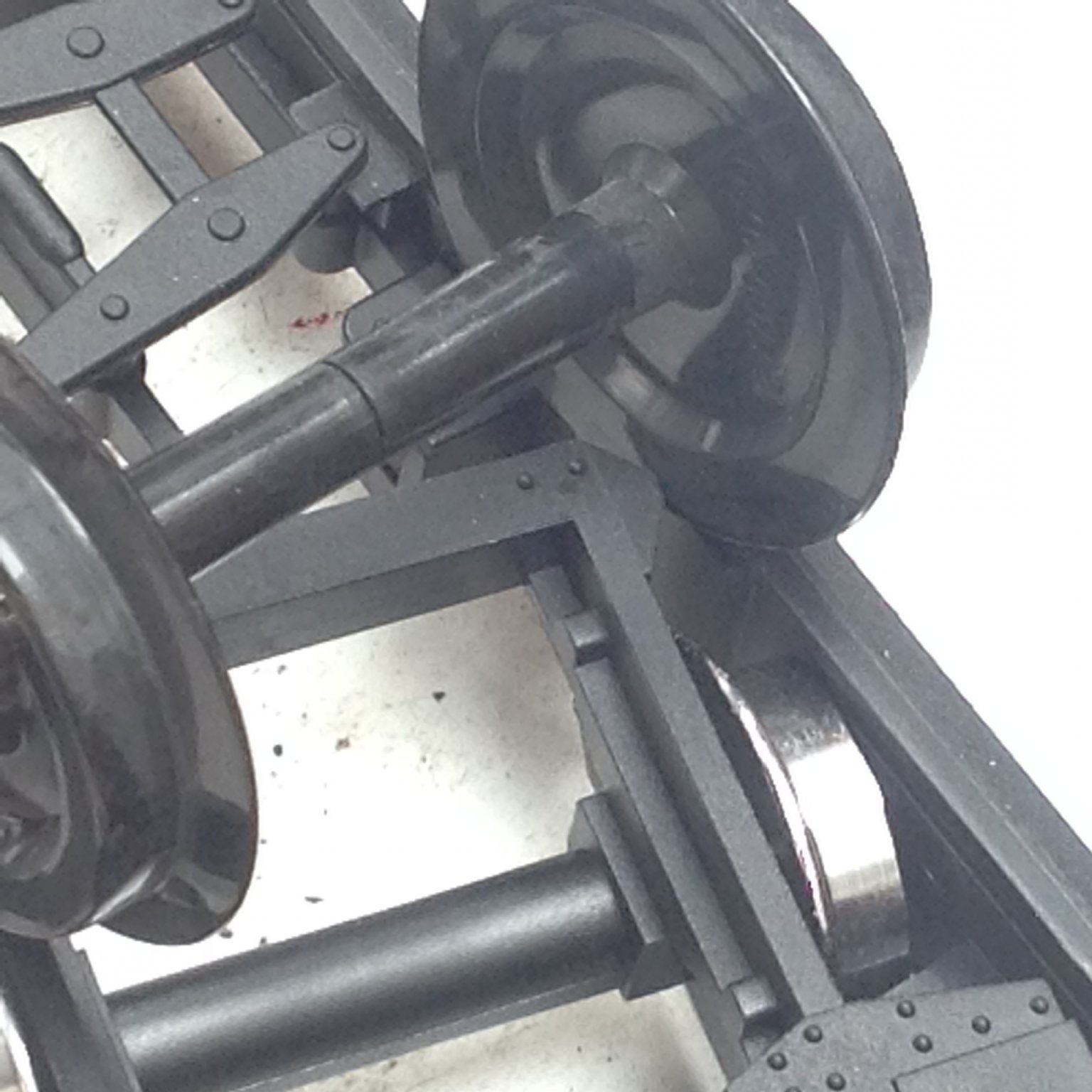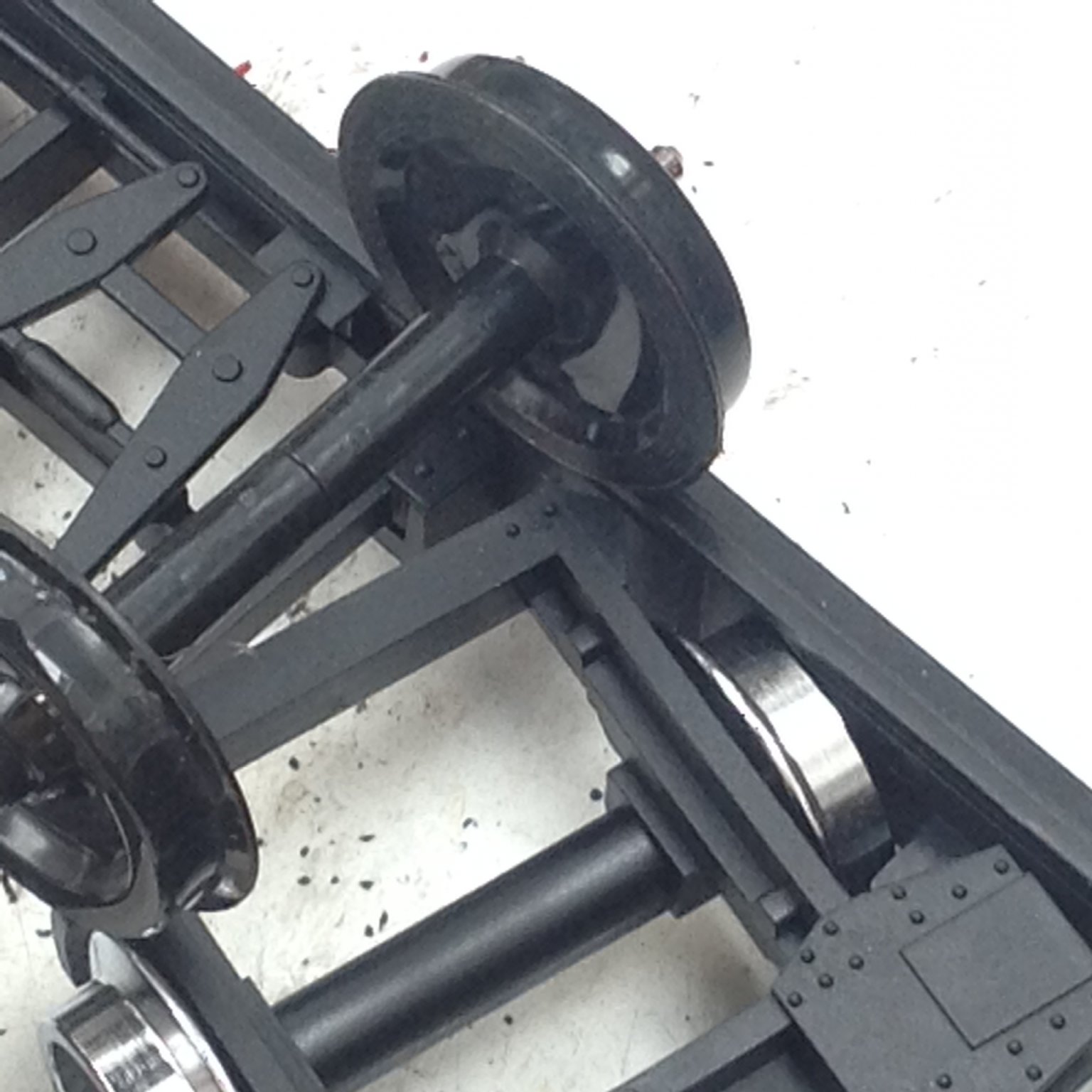 As has been mentioned the Coupling Bars are rather neat but the special one for coupling to a Loco has little use for me being reliant on the LGB Hook which I have dispensed with on all of my Locomotives. Fortunately my unashamed copies of James ones have worked just fine so they are used along with LGB LGB Coupling Bars intermediately. However on reviewing this Video of Poland with Bogie Vehicles on I noticed that the Rollwagens are coupled much close together.
Thus in addition to the ones that I have shown elsewhere yesterday I fabricated a much shorter one as seen below.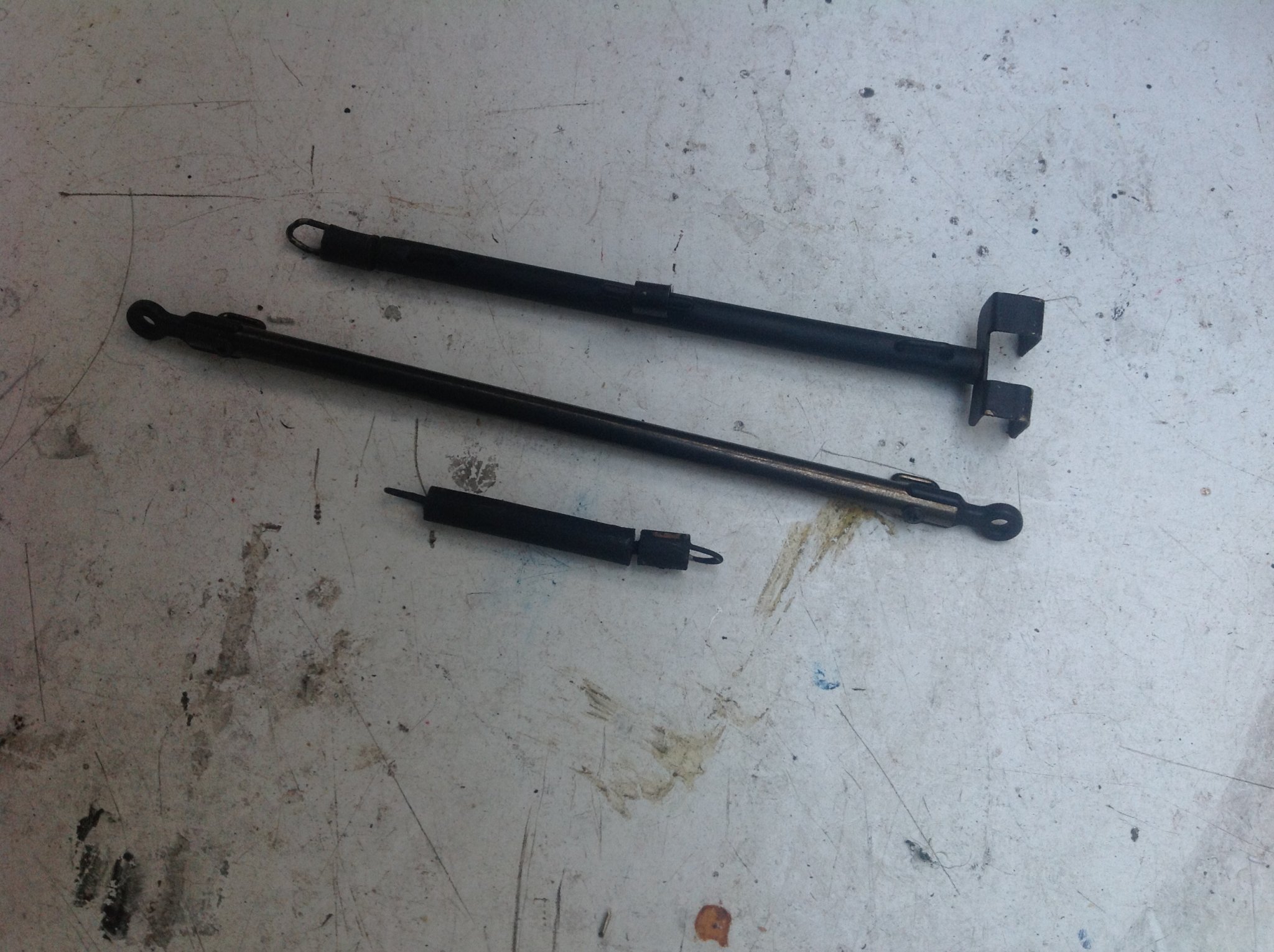 Though the vid just above is perhaps not the best one showing short connection between 2 SG Wagons, I have seen shorter ones used between the 2 Rollwagens.
Below are 3 of the 4 Wagons that I use on my Rollwagens, the Bogie one is shown separately to reflect use of the Shorter Coupling Bar.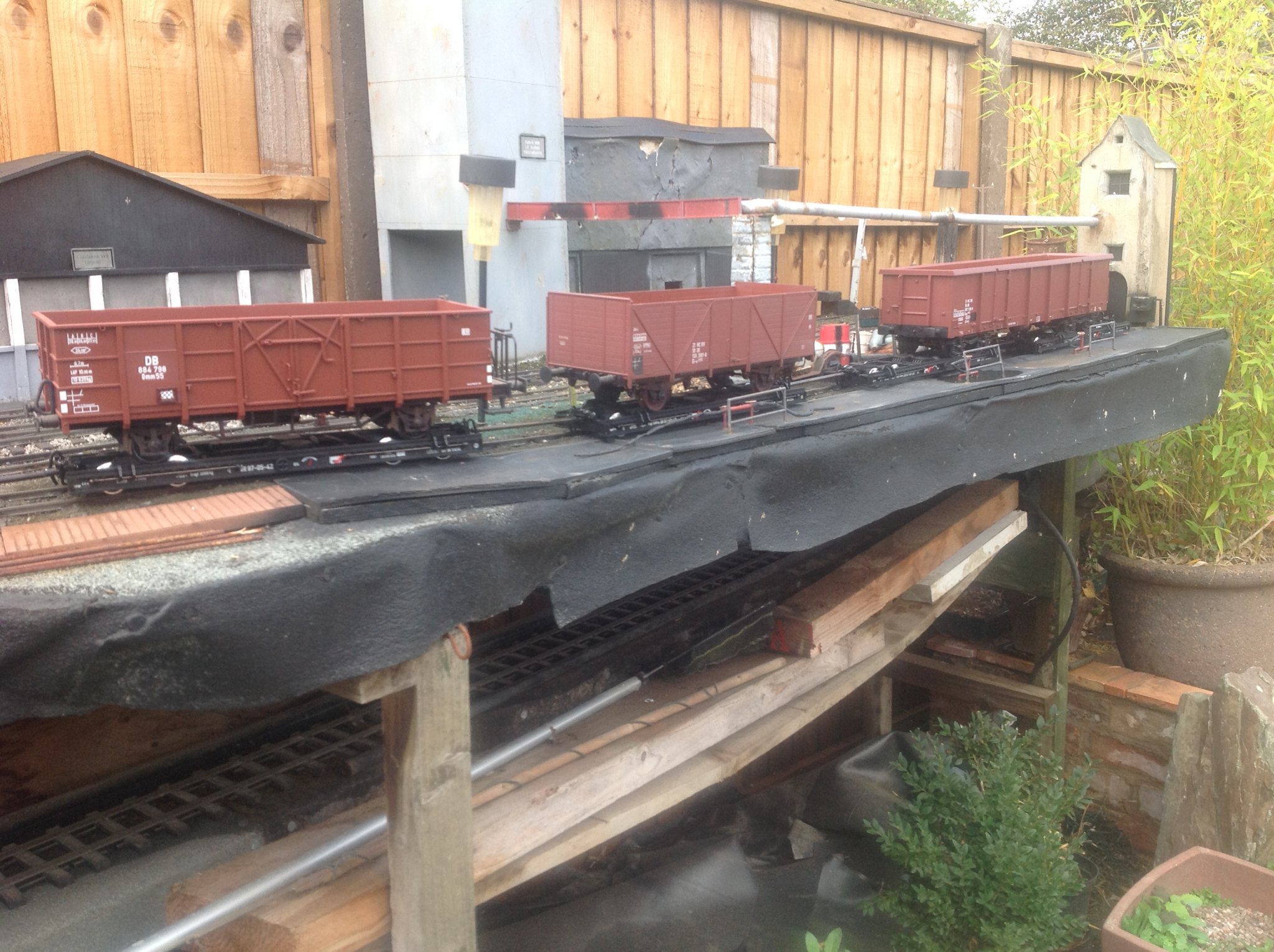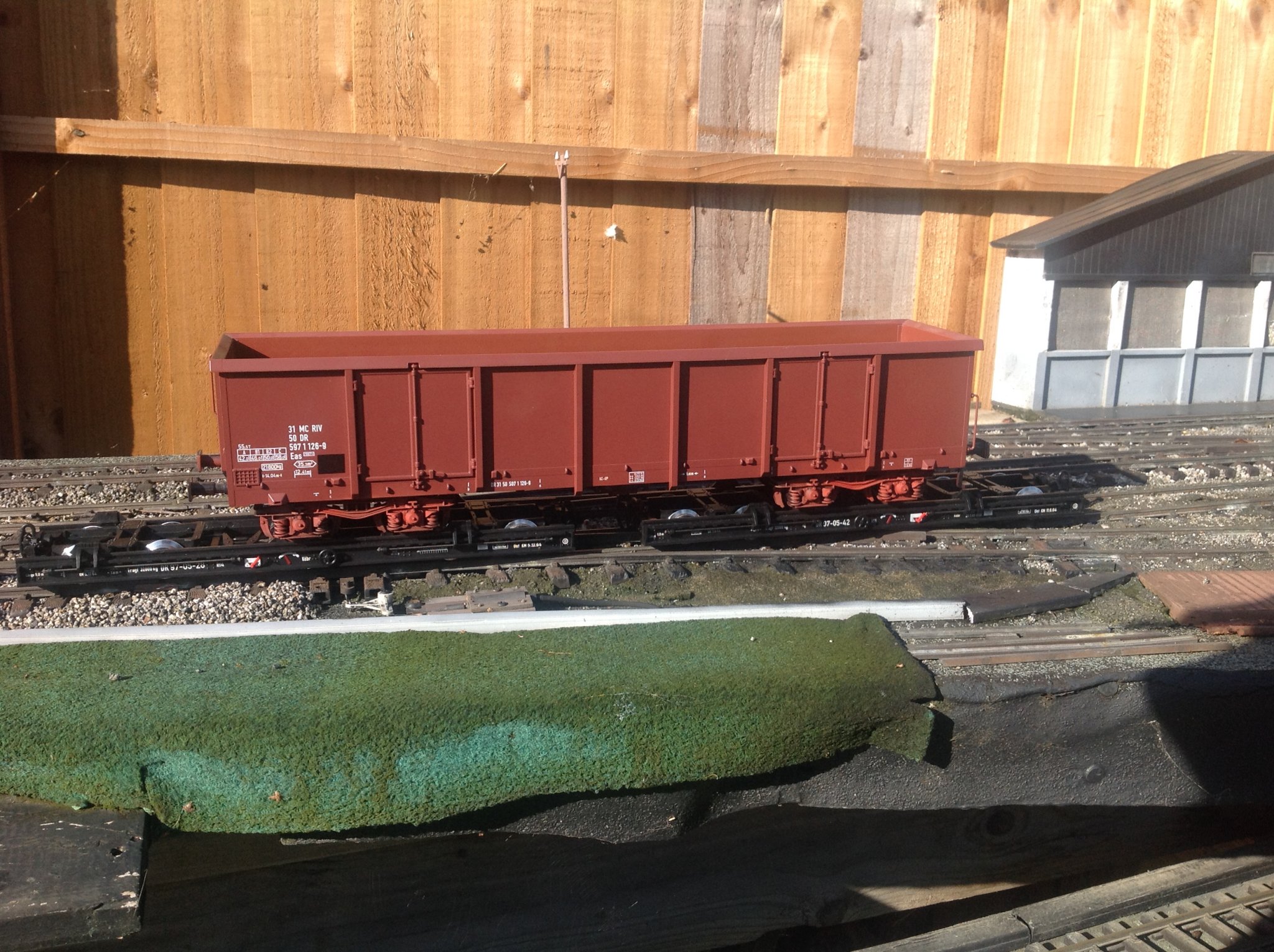 Here is an interesting picture showing the overhang of the Bogie Wagon on R2 Curves before I fabricated the shorter bar. Though the effect would not be much change in this view.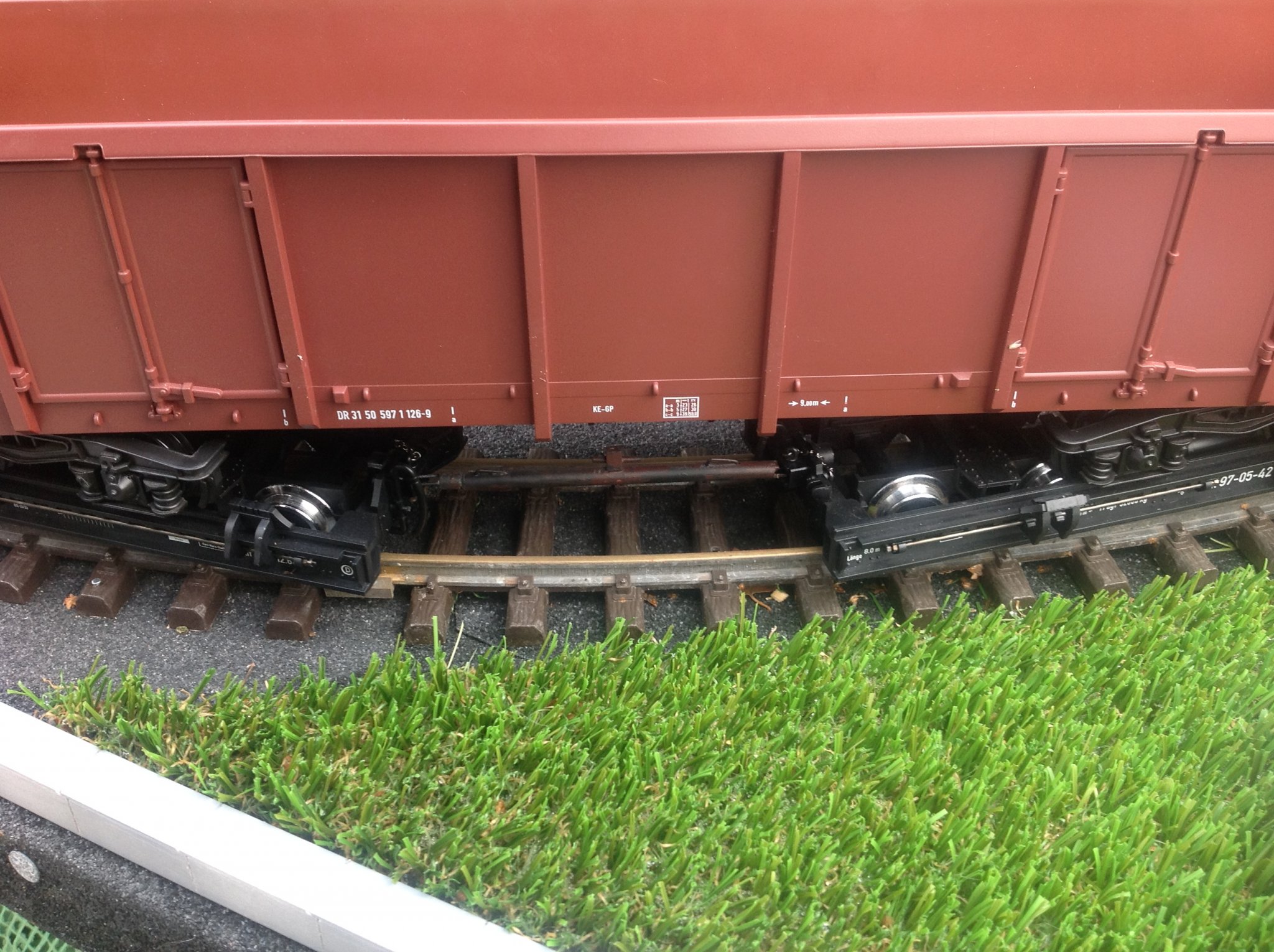 A few views of the set in service on my line.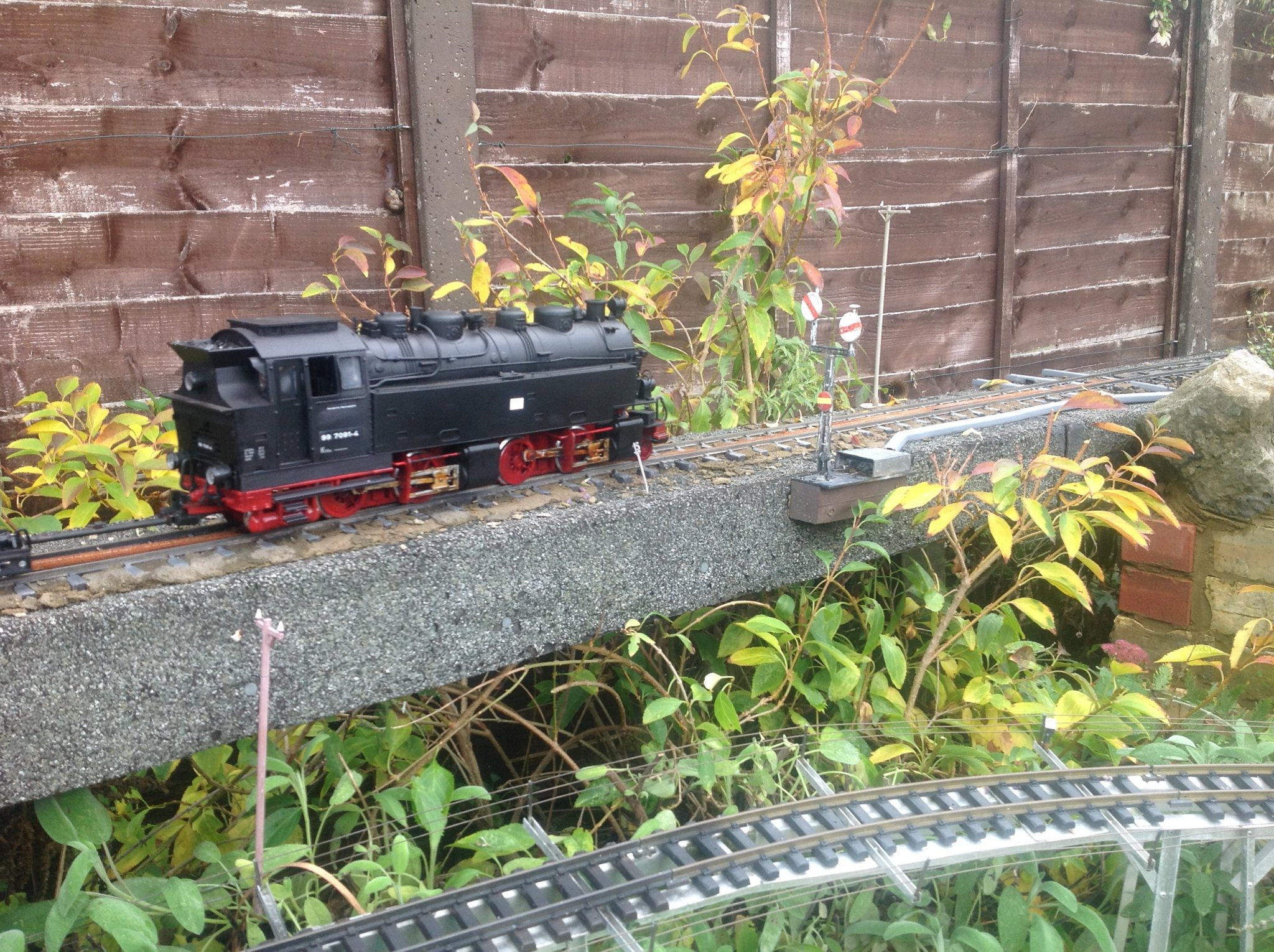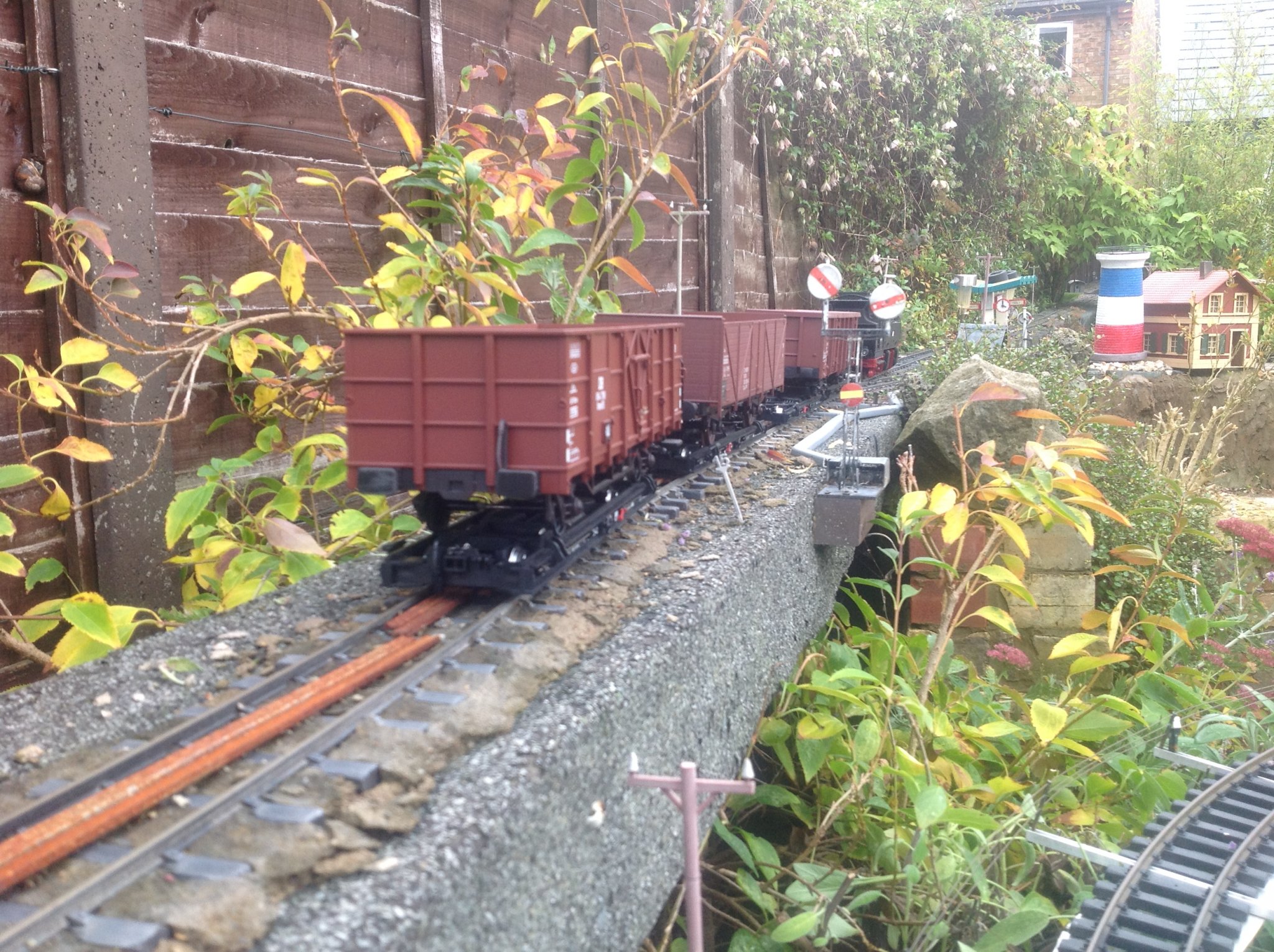 Oops no end of Train Marker, go to the bottom of the class that Train Crew!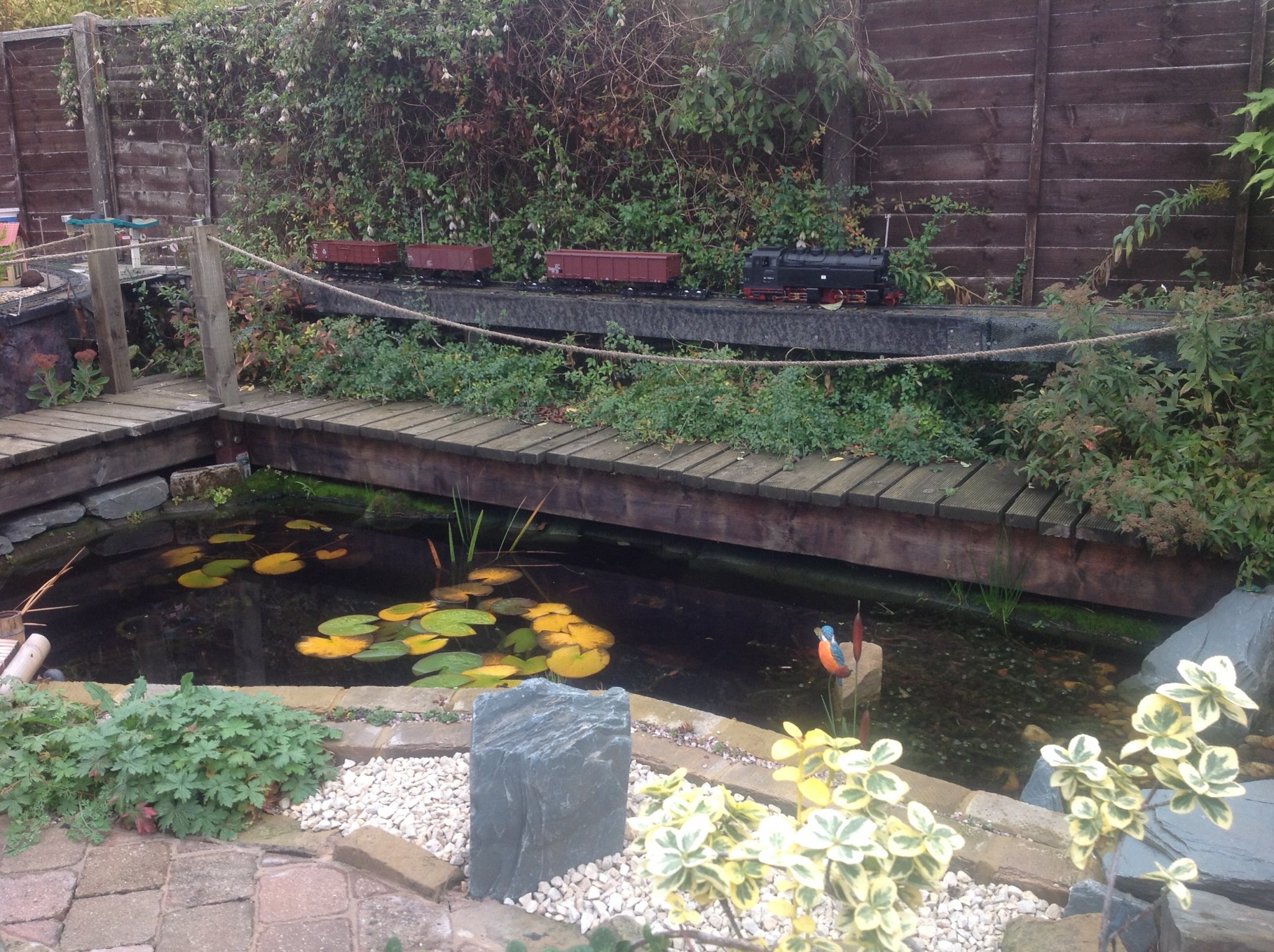 Finally a couple of staged pictures of my Scratch and LGB Wagons 7 all told now. Note the difference of not only length but height. I now know why my 3 Scratch Built ones were so unstable, not only the height but the lack of weight told against that futile Scratch Build. Still it was fun at the time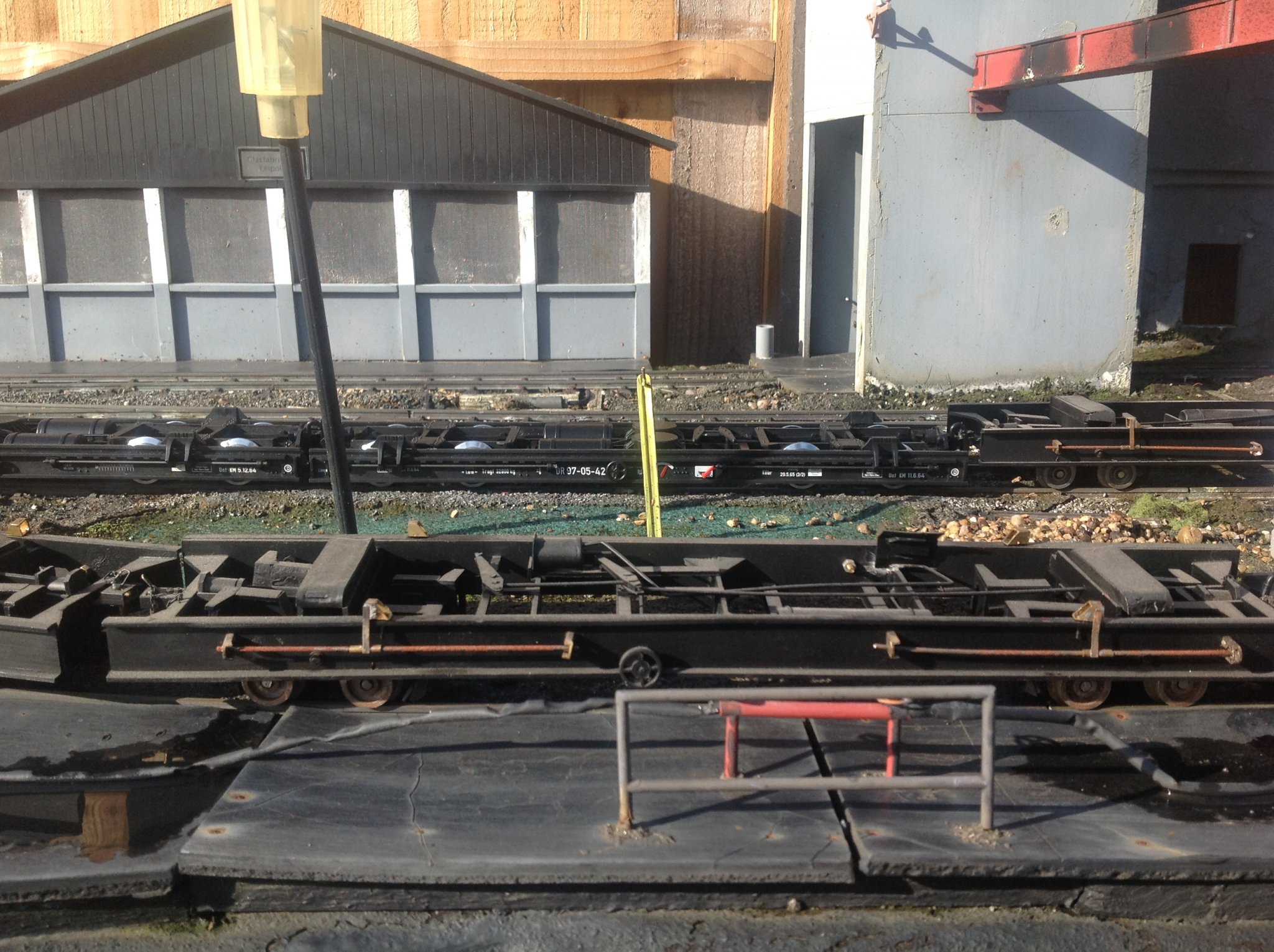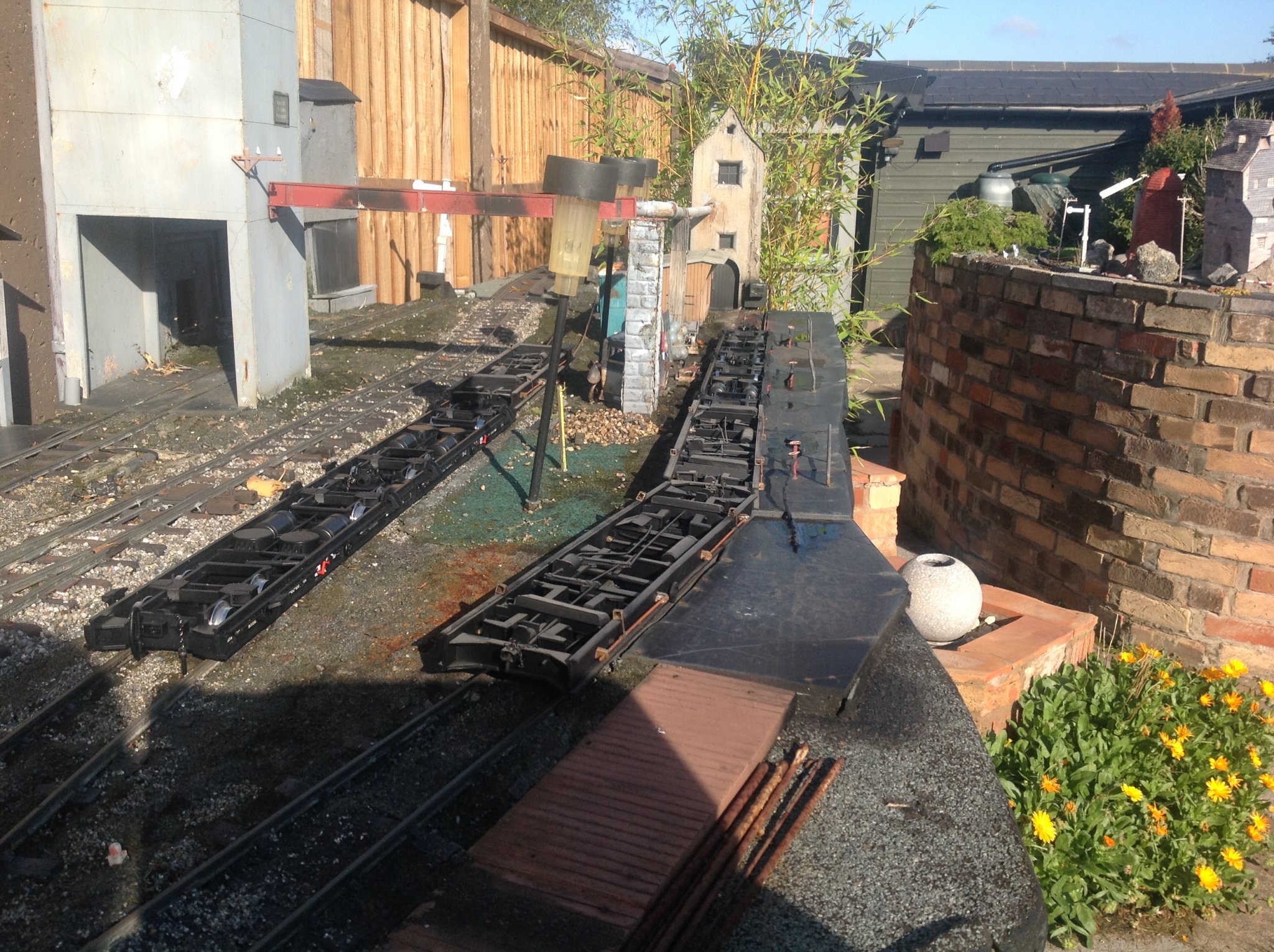 Last edited: