SevenOfDiamonds
Registered
Hi everyone
When I started drafting this post, I was planning to ask if anyone could help me untangle the origins of this 6-wheel diesel loco . . .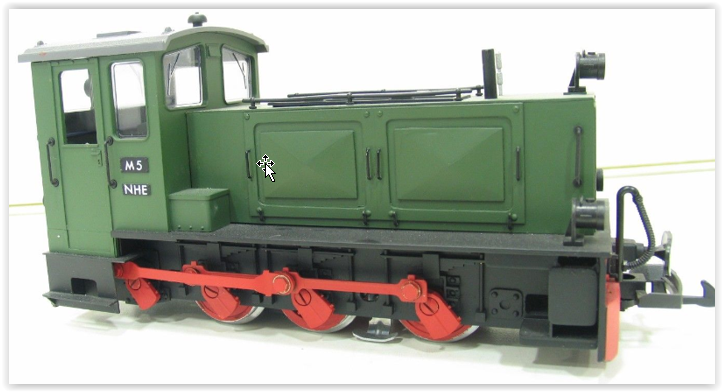 . . . that I bought on German Ebay last year.
At first glance, as a six-wheel diesel with jackshaft, it's a bit like the LGB 2x59x HF130 diesels, but it's much older as it has a clam-shell motor block. Also the cab is off a 2090-series (4-wheel) diesel, neatly extended downwards (and the grille, handrails and top engine cover are from the same product). The running board and sideframes look as if they are a single plastic moulding, but the side frames are much thinner than any LGB model I have seen, and there is one point where I think I see a glint of metal, suggesting the detail has been scratchbuilt onto a plasticard sideframe. Truly the work of a master craftsman!
It is while writing the draft of this post that I idly put "LGB M5 NHE" into a search engine, only to discover posts on
www.buntbahn.de
in 2007 by Dr. Hans-Jörg Windberg, including a photo of this very loco, and described (translation by Google) as "
V5 (here labeled with M5) … of my father was based on an old plan in the LGB Depesche from the small, originally 2-axle LGB diesel locomotive
" and "
HF diesel in connection Kistenfabrik (the locomotive is a conversion of my father from the small two-axle LGB locomotive, after an older LGB-Depesche)".
Now, of course, I want to find that "sometime before 2007" (probably a long time before 2007) copy of 'LGB Depesche' that inspired this model, and possibly led to LGB producing their own 2x59x models (from 2004, I believe). Can anyone assist?

I also found a number of pictures of this loco in a PDF that is obviously pages 14 to 29 of some publication. Does anyone recognise the 'house style' of
https://shop.vgbahn.info/media/pdf/.../1601702_Leseprobe.pdf
? My best guess is that it's from a publication in the MIBA (Die Eisenbahn im Modell) series . . . but which one? My grasp of the German language is limited to what Google translate can do for me. That article (duly translated) would also be of interest to those of you that use "card systems" to plan freight movements around your layouts. It also provides an interesting trackplan of the indoor G-Scale railway (NHE - Nordharz-Eisenbahn) that this loco ran on.

All the best

David
1