Aldo i used the wrong material for those frogs: hard top foam pvc, these frogs are going to be used inside in the sheds "parking lot"
I am waiting for my uv resistant extruded pvc, really hard stuff.
I have made several mistakes with frog making, but if you dont shoot you will always miss.
I cut up some pvc sheet into strips ~1 inch and ~1.5 inch.
I mark the lenght on the strip to get the body of the frog.
Then i place the frog on the drawings to mark where the rails are going to be, you will see that on one end i left the frog longer to insert the rails more convenient.
Was copied from some real life frogs btw.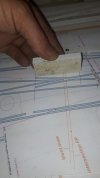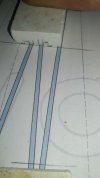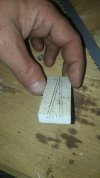 Mark your cuts as precise as you can, a tenth of a millimetre off can give odd results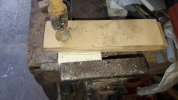 Little bit of fine tuning.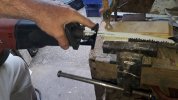 2.2mm in width.
keep it as strait as possible.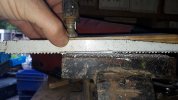 To finish i use a finer blade to level it better and make it a flat bottom.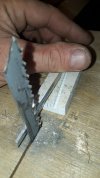 I mounted my jigsaw upside down in a jig for a lot of reasons.
I use a strip as a guidance on the saw blade, be very aware on with slot you put the strip in and be very aware on witch side you make your cut.
Not the best frog in the house!!!!
Cut off the edges, sand and number him.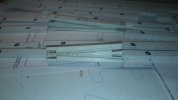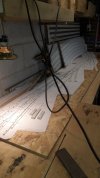 I hope this is helpful to someone for ideas to create your own.
It does not matter if some fail or look miserable? right? i improve along the way as a taking my walk and get much better.
When i have my good materials i will post a small update.
Any comment thoughts or ideas are very appreciated.
With best regards, thanks for reading.
2