I am in need of help and advice regarding the installation of Analogue DC power to my layout and would be very grateful for any assistance from members.
I am attempting to create a G Gauge garden railway loosely based on the popular narrow-gauge railroads of Colorado (especially the Durango & Silverton and Cumbres & Toltec lines).
Track laying is virtually complete apart from the connecting section on the right indicated by the trestle bridge on the attached plan.
The layout is roughly 24' x 16' and incorporates elevations from ground level ("Durango Wells") rising to around ("Crystal Springs") to a maximum height of around 10" in the central mountain section (Lumber Camp). The grades are pretty steep, but I am hoping that that my powerful Bachmann Spectrum and LGB locomotives will be able to surmount them with short passenger or freight trains.
I am using Analogue DC power and my problem is how best to wire up the layout in 'blocks' to permit two trains to operate simultaneously, one on the lower oval and the other on the mountain section.
My more immediate concern is that whilst initial test runs using my trusty Stainz loco worked fine, but since connecting the last section of curved track on the loop to the right of the Lumber Mill trains refuse to run. I used my newly acquired multi meter and established that whereas there was a healthy 18 volts DC reaching the track it suddenly dropped to zero.
I was a little perplexed but with the help of my cousin we were able to isolate the problem by disconnecting the track as shown on the simplified plan. However, future operations will be severely restricted to the outer oval until the problem has been corrected.
I suspect that by connecting the final piece of sectional track I had inadvertently created a reverse loop thereby opposing polarities (not immediately apparent from the plan). As you can gather my electrical knowledge is fairly basic (well just enough to stop me from electrocuting myself so far) but in studying the plan a reverse loop does appear to be the likely cause of the problem.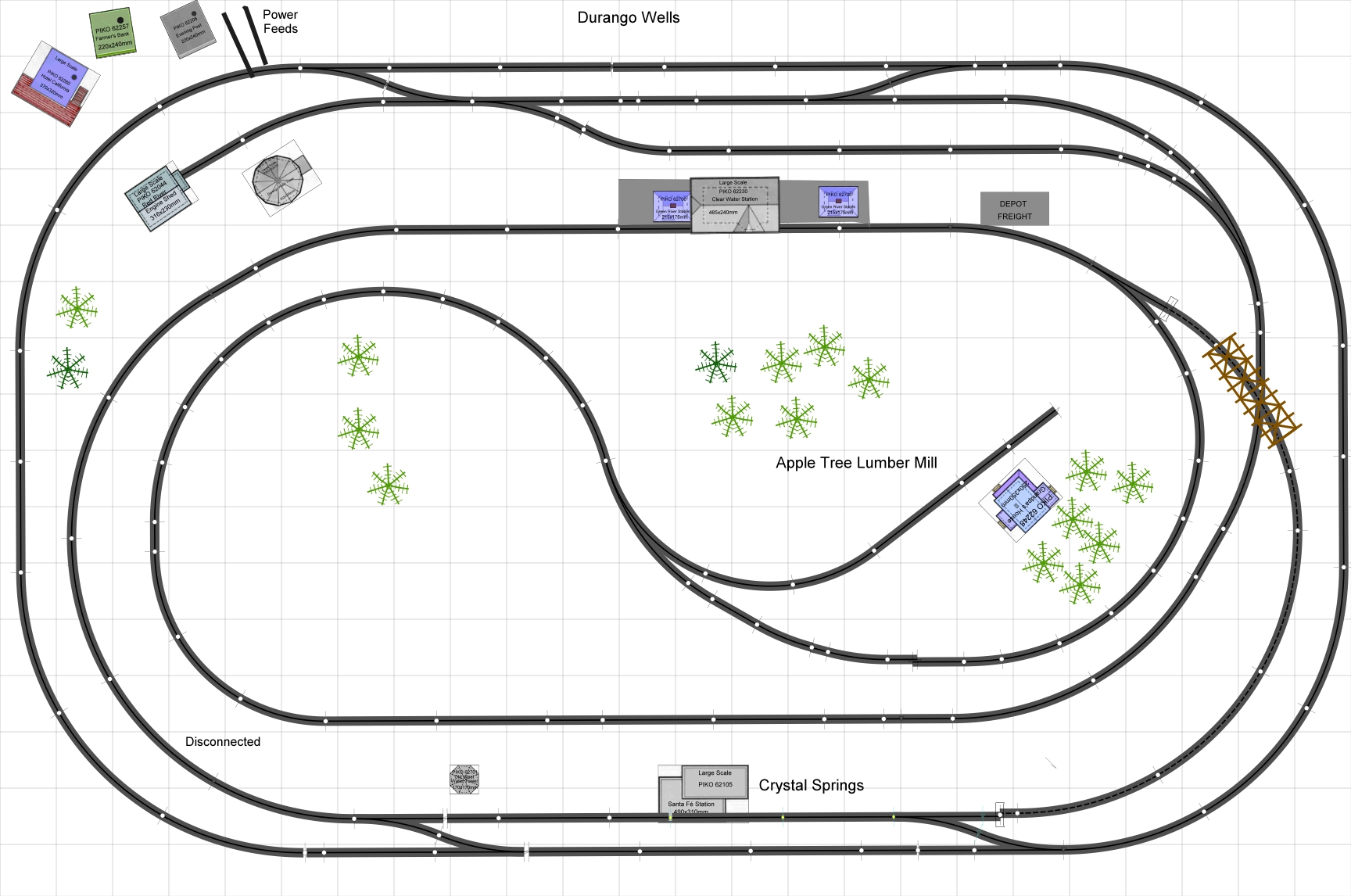 I have acquired a S/H LGB 1015K Reversing Loop Set but am unsure where to actually locate this as I understand that you can only run trains into a reverse loop from one direction? I am thinking that it might be best, even at this late stage, to try and eliminate the reverse loop altogether but this will necessitate a major reworking which I am anxious to avoid.
Advice please?