Hi
As mentioned in "
What have you been printing.
" I have been working on a car, inspired by LGB 4058.
I have used Piko arch bar trucks.
Pivot assemblies are done with 6M nuts & bolts

This is the proto type, & some changes are to be made.
Sectioning of the bed, will be changed so that the "S" will end at a 90 deg angle. Also the mechanical connection will be changed to 3 x 3M screws.
New revision (Rev3).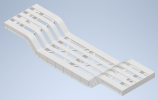 New sections


Car part with small mods.

Full model
All stl files are attached ( I have not have had time for printing this revision )
Last edited: