45mm gauge track - approx 16mm scale (1:19)
My latest project is an imagined narrow gauge loco inspired by a GWR Castle...!
In the style of the pannier tank I built last summer.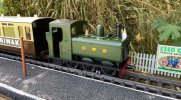 It's being built on a Bachmann Thomas motor block, largely from Obeche wood (the boiler is a bit of pipe). So far I've made most of the frame of the loco, cut out the cab walls, made the front pony truck, the firebox and started this evening on the boiler.

Currently the pony truck is articulated only where I've joined it to the motor block - I looked at an old Hornby loco and realised I should also have articulated it at the pony truck too. I guess the prototype is centrally pivoted on a point that can move left and right a bit - and also doesn't need to get round R2 curves! It does seem to run ok on the brief tests I've given it, but if that doesn't prove reliable I'll need to change that.


Many concessions to my narrow gauge will be made...! I've shaped the front buffer to help with clearances, it will be centre buffer with chain coupling and I'm ignoring the tapered boiler and firebox - so very much inspired by, rather than any sort of scale model, but that's in keeping with my stock. I also think I've gone a bit too big on the firebox and boiler, but generally I'm in favour of keeping on going once committed - and I'm not desperate to remake the firebox and cab front, so I'll plough on and see how it goes!
Eventually it will have sound via a Zimo chip and smoke from a Zimo fan assisted generator (that will be a first for me).
The boiler shows by technique which is basically to have a 2D CAD drawing, which I kind of work on as I go and then print out templates on paper which I then cut around.
The models being created with 3D design and printing shown on here are amazing and really inspirational, maybe one day I'll get into that too. I've got a toddler and I'm limited to building in the evenings, so despite much looking at 3D printers I'm currently sticking to the methods I know as I don't think I'd have the time to learn the printing technique. I did design the chimney, dome and safety valve cover for the pannier and had them printed, so I may well do that again for some detail bits... I do have a vinyl cutter which can cut out wafer thin plasticard - I use that for occasional detail bits like the number plates on the pannier. My current major hankering is for a cheap CNC machine to cut out all the wood sheets - that would be a massive time saver, but I probably need to park that idea along with the 3D printer until I've got a bit more time to learn the techniques. Until then it's me and my trusty scalpel!
I'll keep this thread updated with my progress...
7

2