11 Sep 2015
1,522
422
Best answers

0
In another thread the propensity of the terminal block screws to rust in some production lots of EPL drives came up. That prompted me to order what I hoped would be suitable replacements from one of my favorite electronics parts suppliers. Indeed the parts ordered were just what was needed. The 2 position terminal blocks are manufactured by TE Connectivity. The mfg. part no. is 1776118-2. The following pics show the part and installation. Everything lines up perfectly. The screws and wire clamps are nickel and tin plated brass and should have no problem surviving outdoors.




As long as I was ordering parts I got a few more of these very useful "Classic Combicon" terminals manufactured by Phoenix Contacts. These are used by many OEMs in place of "choc block" screw terminals. They take wire sizes from 12 to 24 awg. I have put them on the power in and track out of my Massoth and ESU decoder programmers (another story!
) and related power supply. They are also used for the track power connections on my Märklin CS3 and boosters. Here are pics.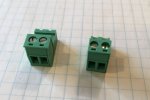 Finally, this is a tool I have found indispensable since discovering it. It is called a "spudger". It is a strong nylon tool made for poking around on circuit boards and IC chips. Its about 6 inches (15 cm) long with a point on one end and a flat on the other. It is very useful for prying parts off plastic locos and wagons without causing scratchs or other marring that a screwdriver can do. If you don't have one add it to you next electronics order. They're only a buck or two.

Last edited:
1