Next project....
After the
Heavy Load Center Depressed Car
i have started on a new project a depressed Center Flat Car after inspiration from USA Trains models.

I'm modeling in Autodesk Inventor, and it always interesting to think how to create a model.
I have decided to spilt it in 3 major parts the same way as the Heavy load car, and split it in to frame & deck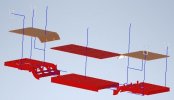 Each frame module consists of several parts.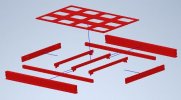 At the moment I have printed one end part & a center part


The next end module is on the way....
5