Neither idle nor a marvel
I've been looking for a green U-class for a while now. I bought this loco off eBay at a very reasonable price. Whether it is a bargain will have to wait until I try running it.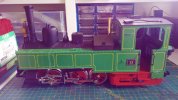 The 2073D is quite old, 40 years-ish, and is analog DC with no pretence at being DCC ready. This model has been well used and there a few things missing externally - doors most noticeably, and whistle - but otherwise in quite good nick. The (red) box is a bit crushed but not too bad.

Looking underneath, these older U-class models have no skates, but some models like this one have metal pony wheels and pickups off those, so I'm hoping this will mean less trouble stalling on points. In general I prefer to remove skates where possible but I find my other U-class locos need them unless you fit a stay-alive. Traction tire looks okay but I have spares so I'll probably change it anyway.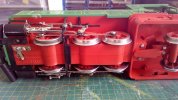 The previous or a previous owner has renumbered the loco from 298-14 to just 13, not sure why. This is what the prototype looks like or rather looked like in 1976:
And in rather drab black on the Steyrtalbahn 5 years earlier:
First job is to dismantle and clean the loco. More pictures of that process to follow.
Last edited:
6