24 Oct 2009
5,592
6,561
71
I have amassed a fleet of ten locomotives to service the traction requirements of the Claptowte Railway, five steam and five diesel locos. It is my intention to ultimately repaint, renumber and rename them to portray a unified corporate identity. The steam locos will all be named after female members,and the diesel locos after male members, of my family. I am not concerned about potential loss of resale value as I have no intention that they will be resold. Arrangements have already been made that upon my passing, the railway, in its entirety will be passed to my two grandsons.
The first loco to be modified started life as LGB 20272 RhB No11 'Heidi'. The loco was purchased second hand on eBay. It is factory fitted with a decoder and sound.




I have altered this model by removing the RhB markings and numbers and the name 'Heidi' from the smokebox. There was a need to touch up the paintwork here and there. I am not overjoyed with my efforts, I had to mix my own paint to try and get the shade right of green, it's not perfect but close enough at normal viewing distances. I painted the buffer beams in signal red, which I am pleased with as I feel it gives the model a lift. The smoke box door had to be repainted once I had scraped off the name 'Heidi'. The model was finished off with new number plates and name plates for 'Christine', my wife, custom made by Custom Nameplate Studio. So here we have it, the first of my upgraded locos and the pride of the line, being the only one of my steam locos fitted with sound.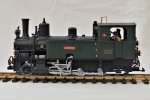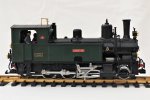 David
13

3