I granted/treaded/spoiled myself a day for the aa20, but aldo the thing(frame) is driving on my track i have a question.
The RUFF outside dimensions are somewhat /~clear\???? to me, yes i am into a 0.1 of a mm.
Those stars? above the fire box what are they and can some one provide please a better picture if there is such a picture of something looking simulair?
The one and only video of the AA20 is not sharp enough to go into detail, i hope you all know what part i am referring to and what it does and a clear picture of something simulair.
(hold something in place? parts of the firebox??double wall fire box???no?)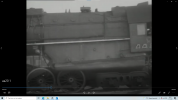 You will see 7 of those "stars/rings" behind the sand dome lines on the kettle.
What are they and if there is a better "look a like" picture i would really appreciate to have it for better detail.
Thanks in advance
With best regards Igor
Btw that thing is a beast.... an animal...its big, long and high....To heavy and to big for those tracks back then...Yes i have the dimensions complete.