Being a beginner my track is a loop on the patio. Which I always considered as fairly level, however, it must be somewhat inclined so that rain may find the gutter. It is enough for a steam loco to react: Stalling an certains corners, running away downhill. Some sort of brake was needed, and this is what I came up with: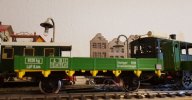 if you look closely, you will notice wooden brake shoes next to the purely ornamental rubber bows.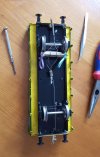 Look at this marvel of baling wire technology (actually made from paperclips). Brakes are held tight by a spring and released as soon as the waggon is dragged along. I found some lovely coloured rubber bands to increase friction. While not an engineering masterpiece it is good enough to check the concept.
Obviously, everything depends on the weight the waggon carries. I am trying to figure that out, as well as the best position in a train. Simply speaking, we are running "unfitted" trains coupled more or less loosely. I use chains (from paperclip wire, you may have guessed, your could use daisy chained clips right away.)
When this waggon is in front, right behind the engine, it will emulate the locomotive brakes as soon as slack in the train (from running downhill) begins to push it. Uphill, however, this behavior will not allow the momentum of the train help overcome eventual stalling spots, since as soon as the engine slows brakes will catch.
Let's put it on the tail, where every brake van should be placed. As opposed to the prototype, it will not keep the train stretched. Only when catching up with the slacking train braking will set in. Possibly, at that point the loco has already been pushed out at the bend.
Note that the engine itself is not effected. It works on the train alone.
I shall be satisfied when I have her run steady loops at a resposible speed without having to attend.
Last edited:
3

1