Evening all,
Since finishing my last project of my Beyer Peacock(ish) tank loco, I've been turning my attention to some of the other projects that have been hanging around the workbench for far too long. Mainly these consist of pieces of European and American rolling stock, that need a little more British flavour, to fit in my my vision of the N.L.L.R.
As well as converting LGB Toytrain vans and open wagons along the lines of GeRik's and David's guides I have made a start on a couple of my own ideas.
The first of these is the conversion of the first of 3 Bachmann Jackson Sharpe coaches. Originally I had planned to construct something akin to one of the Leek and Manifold coaches (shamelessly stealing ideas and techniques from Rik again), but I have decided to hold off on that on the hope that one day I might be able to justify one of those lovely Peter Yatton kits.
I had studied a lot of the stock that Brush/Falcon/Hughes had constructed for various tramways around the world. Many of these had end balconies as per the Sharpes, as well as truss rod frames and occasionally clerestory roofs. My thinking being that being a manufacturer close to the railway, the N.L.L.R might have been the first to hear about stock left from an unfulfilled order...
Henri then shared the pictures of the handsome teak, RTM tramway coaches and I decided I could build something plausible somewhere between the two.
To my eye, the greatest betrayer of the Sharpe coaches origin is the full curved ends to the clerestories. I was keen to use as much of the original roof as possible, and clerestory coaches don't pop up too much in British narrow gauge, so the thought of something a little bit different appealed too.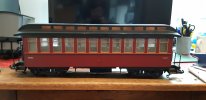 I started with an old JS purchased many moons ago from a forum member, back in the 'mad' days. After disassembling it I started to attack the windows. A common theme between the Falcon and RTM stock was the large plain windows. I would cut between each pair of windows with a razor saw to create a single large hole. The then cut slits using the saw and scored the remaining frames using a craft knife, until they could snap off.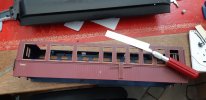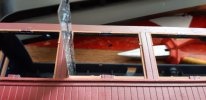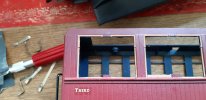 After a couple of hours work, I had one coach body with 6 large windows on each side.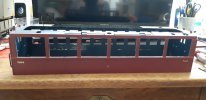 4

1