I just received the new subframe for my old 4-6-0.
As I'm going to install RC and batteries in it, i.e. a brand new logo, I decided to repaint it as well.
I really didn't like the maroon/silver and gold paint job though...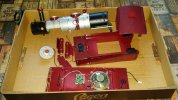 The maroon fields on the cab and tender were masked.
The tank bands were also masked.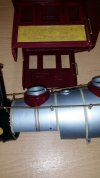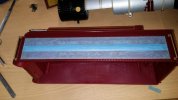 I washed all the parts thoroughly with dish washing detergent and then primed with red etch primer.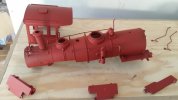 Then a coat of Stynylrez black primer.


I went for a black, gold and maroon finish.

I have the smokebox left to paint in graphite and then the interior walls green.
9