Last year in spring I bought a Trainline-45 model of the HSB Pfifi 99 6101.
The model I bought is equipped with a Zimo sounddecoder and pulsed smoke unit.
First impression:
It is a nice solid model, but some details are missing and It is a pity that there was no driver like LGB standard delivers.
But happily I found a volunteer in my cabinet.

. (see picture below, Pfifi just unpacked as delivered)
The first test ride was impressive, the sound is really good, and volume easy adjustable using the steam dome.
The model runs very smoothly and since I have it I used it during summer and wintertime without any issue.
It is one of my favorites now,.
Some remarks:
-The smoke unit is working fine but was very noisy and needed a drip of Oil.
Since I used a drip of Fleischmann oil, it is silent.
-To oil / lubricate the Fan of the smoke unit. I firstly had to dismantle the complete engine and it took a lot of screws and patience..
During these activities I found out that the quality of the used plastic is not as good as I' am used to from LGB. But I really like the model, its design. And the fact that this manufacturer brought two modells of two HSB loco's on the market.
- The sound is really impressive, but my model had a small issue, when I let go of the throttle lever, it was completely silence.
Normally you should hear some background sounds. But in this case nothing was there.
I requested support by a specialist and the answer was that I had to change CV394 to value 34. It worked out and now the sound is complete...
Overall the Trainline-45 model is a good addition to my collection and I really I used it a lot last year.
Like the LGB models this Lokomotive is designed to run outside and to have fun without any problems.
Its pulling power is sufficient to pull realistic trains.
In the mean time I added some details and paint to make it more realistic (to my opinion).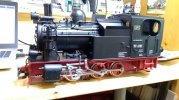 5