UK/US/ROW steam narrow gauge railways 1:1
Not really trying to do a build log on this, honest. However, things are slowly progressing. Main chassis and bogies made up. Motors and gearboxes tested ready to go in (that is a story in itself). Colour coats starting to go on. 2 coats, rubbed back, sanding sealer on the chassis a bogies then a heavy shot of Simoniz filler primer, sprayed and "brushed in" to load open joints. Then some minor secondary filling and flatting back as needed.
Bit of masking on the chassis - there are 4 colours to go on there, red, matt black, grey, BR dark loco green. If you are wondering the reason the dark stuff is going on first it's that I am using enamels for the bright stuff, the dark stuff is auto acrylics from rattle cans. This way around it removes the risk of paints reacting and make localised cleaning up and touching in a doddle, sort of.
Body structure now on 3rd coat of sanding sealer, each flatted back with 400/800 grit, and I can still feel a little "grain". I really want to avoid the filler primer on here as there is some fine engraved detail on there. I'll give it a light coat of primer and if the grain is only localised I'll get some skim filler on it and then a proper coat of regular primer. Then some more masking fun, there are four colours on these structures as well - BR loco green again, Sherwood green, matt aluminium and yellow ends. There is a fair bit of detailing still to be added here, hatch hinges, handles, pipes, window surround, glazing, various steps and light housings. Oh, and the whole cab interior.
Starting to fit some of the light housings - it's going to have 6 LED's at each end. One to run at dusk then

. Lady driver and assistant from Jon's. Accucrraft's ubiquitous choppers (counterweighted) replace the Yatton "magnabar" items. More to follow as and when. Max.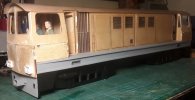 Last edited:
3