3d printing, electronics and trams
I didn't plan to have live steam locos when I laid out my railway. The plan was small industrial locos, trams and a few specials, all built by me and all electric.
That's when the MSS kit turned up for my birthday! Although my line has very little gradient - about 60mm over the whole track length, it is not entirely flat and a radius of 2'6" for the main curves doesn't help matters much either.
Running the loco involved a fair amount of running after it, and I'm built for comfort not speed, so a better solution was required. What I came up with was a small battery powered radio controlled wagon using a reasonably highly gear motor. The loco can pull this quite easily when there's no current applied to the motor, but apply a little reverse thrust and it will bring it to a halt. Apply some positive throttle and even the steepest curves and gradients are not an issue.
Some (not very good) video here. The wagon acts as a match wagon between the low and narrow buffers on the MSS to the standard the rest of my stock runs. That could equally be an LGB coupling if required, so it should be able to pull pretty much anything.
Enjoy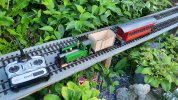 3

2