I recently purchased this model new from ebay. This is the fourth model of the Saxon 1K issued by LGB.
20980 model of replica No. 54 in Saxon green livery
DCC ready (10 pin), directional, cab and firebox lighting, smoke generator
Saxon Class I K Steam Locomotive | Märklin
20985 model of 99 7501 in DRG black
DCC ready (10 pin), directional, cab and firebox lighting, smoke generator
Steam Locomotive, Road Number 99 7501 | Märklin
21980 limited edition (399 pieces) green livery No. 1 named Alexander Thiemer
DCC fitted (mfx), directional and cab lighting, sound, synchronised smoke generator
SOEG Class Ik Steam Locomotive | Märklin
21985 model of 99 7502 in weathered DRG black
DCC fitted (mfx), directional, cab and firebox lighting, sound, smoke generator
(Some retailers list this model as having pulsed smoke generator but this is not the case.)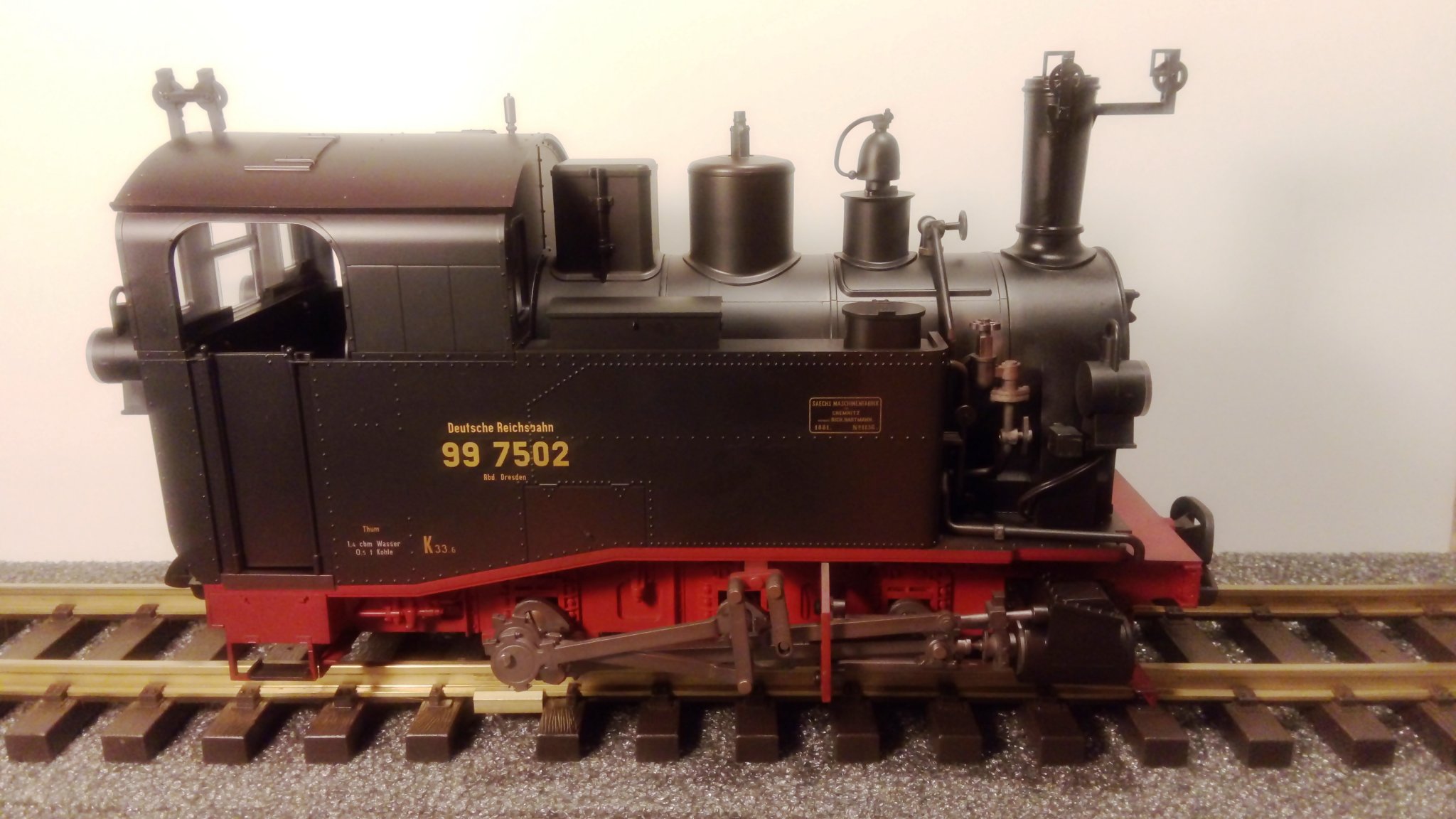 Strangely there is no official LGB record of this loco. The only reference I can find is in the 2015/2 LGB depesche magazine which has a short description of it on page 44
https://www.champex-linden.de/download_fremddokumente_2015/2015_02_lgb_depesche.pdf
Even the instructions or exploded parts diagram are not available online. This may be because this loco is sometimes listed as a (Nuremburg) Toy Fair 2015 edition. It is also mentioned in some places as a "limited edition" but I doubt that as there is no numbered certificate in the model I received.
The full mfx decoder settings, not specific to this loco, can be found online here:
https://www.maerklin.de/fileadmin/media/service/technische_informationen/Umruestdecoder_mLD-mSD_CV-Liste_FX__28MM_29.pdf
Contents
The loco comes in the usual expanded polystyrene lined LGB red box with the following accessories:
Smoke fluid (Seuthe brand, 50 ml) with syringe applicator (labelled "one use only")
Driver figure and self adhesive pad (why only driver and not stoker)
Coupling hook (one already fitted)
Two detailed pieces (part of the Heberlein brake pulleys that fit to the chimney)
Number stickers to renumber loco as 99 7501 should you buy a second one
Four "brass" lamp rings (odd for a weathered loco, black would be more appropriate)
Instruction booklet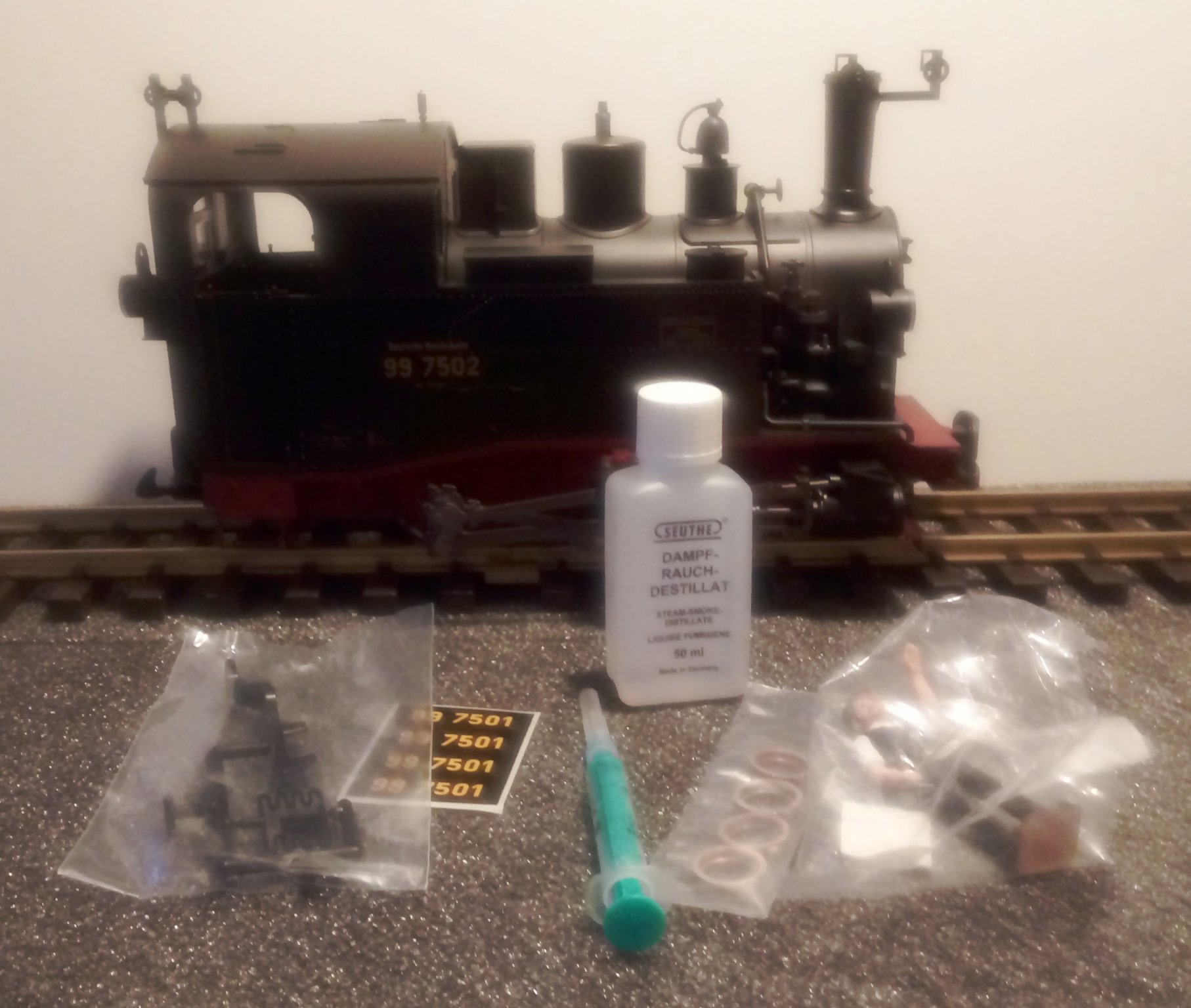 Model
Compared with pictures and drawings of the prototype it seems fairly accurate and has captured the compact appearance quite nicely.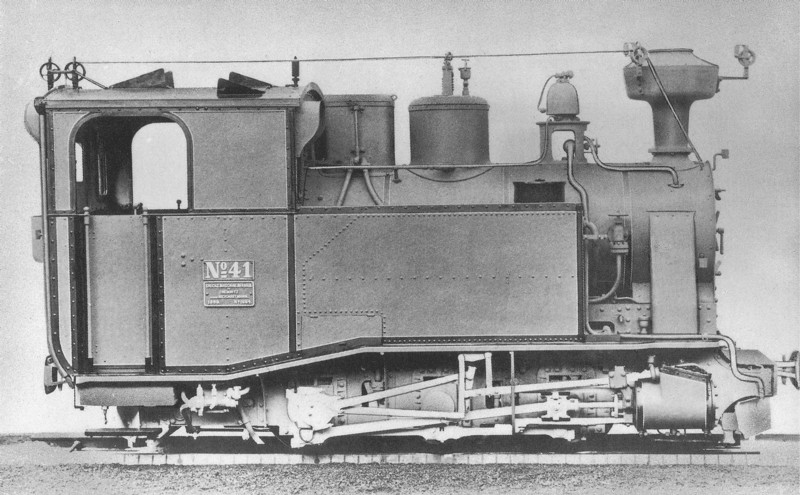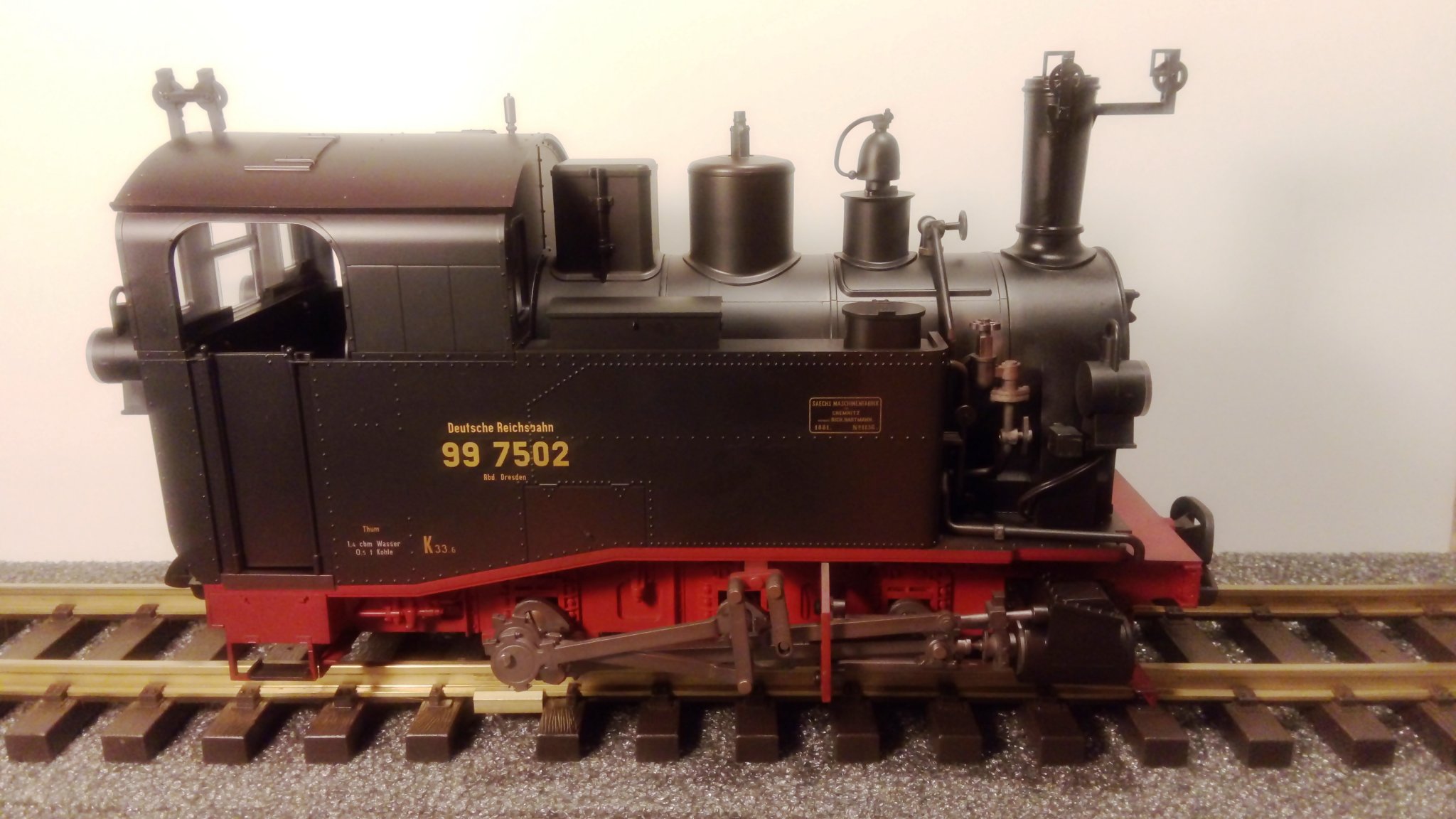 The model is slightly too large for 1:22.5 scale comparing the 280 mm length over buffers to the prototype at 5.630 m, it is more like 1:20. The wheelbase 1.800 m (97 mm) and height 3.000 m (155 mm) are similarly proportioned, more like 1:19.
I'm not a great fan of weathered models but this is done quite lightly so it doesn't look too out of place with "freshly painted" locos and rolling stock.
Compared to the 20980 "No. 54" green model, apart from the livery they are very similar, the main differences being in the cab (sides, roof, windows and guttering), safety valve apparatus and chimney smoke arrester.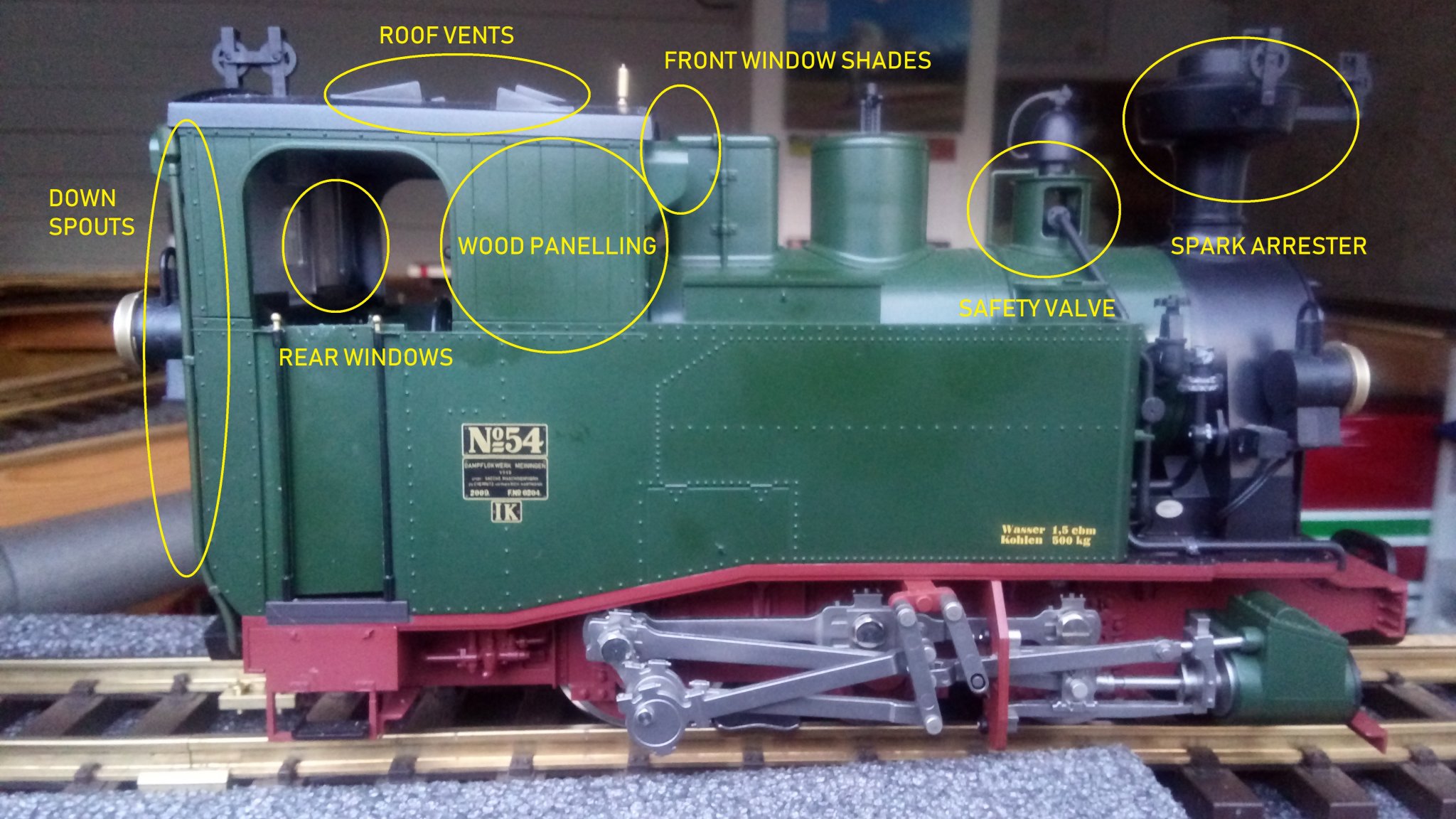 Driving
The mfx decoder is responsive and drives well at low and high speeds. As usual the maximum speed is far too high; at full throttle the scale speed is over 70 kph. The maximum speed of the prototype was about 30 kph so the maximum speed CV 5 needs halving (mfx decoders don't have a mid speed CV 6). It manages R1 curves with no problems, no audible wheel grinding or slowing down.
The model does occasionally stall on points at the lowest speed (speed step 1) due to the short wheelbase. This only seems to happen when travelling forwards through trailing points set straight not thrown. On my other Saxon 1K (20980) I fitted a stay-alive capacitor to solve this problem; I may have to do the same with this model.
By default there is no shunting speed function key but you can assign one and choose the ratio by which the speed is reduced (CV 137) to half or quarter speed. You can assign functions to the same key so you could have e.g. F8 set to shunting speed, turn on both forward and reverse lights, and sound the shunting whistle (sound 2).
Sounds
The mfx sound decoder has some nice touches. When starting there is a release of steam and full throated chuffs, after speed step 2 or 3 less laboured chuffs. If you slow down the chuffs get quieter almost silent for a second or two. I don't believe the chuffs are synchronised with the wheels but are a very good approximation. The brakes come into effect as you slow to a stop. Brake squeal has to be turned on with F2 but you could perhaps assign that so it was always on when the loco was moving using CV 343 (forwards) and CV 443 (backwards).
Additional sounds include steam whistle (long and short), bell, a station announcement (not clear which station), coal shovelling, air pump, generator, injector and steam blowout. No conductor's whistle which is a pity. There are no track magnet sensors in this model.
Lights
The lights are LED and not too bright. You can't make them brighter with the decoder settings as they are all set to maximum voltage. It is nice to have separately controllable cab light. The firebox flicker is good, too, and the firebox door can be opened to get the full effect. You could assign the coal shovelling sound (sound 9) with the firebox flicker (AUX 3) to the same function key, by default they are separate (F12 and F5).
Smoke
As @r.wolfe pointed out on this forum a few weeks back, the provided 5v smoke generator in this model is fairly pathetic. The decoder output it is connected to (AUX 1) is set to full voltage (CV 119 = 255). By pathetic I mean if you put more than a few drops of oil in it won't smoke at all, and then only for a minute or so, and it "spits" a lot. I'm not too bothered by smoke effects but if I was I would have to replace it.
Summary
I would give this model 9 out of 10, model aesthetics and accuracy are good apart from the slightly too large scale, the motor, sound and lights are very good apart form the occasional stall over points, but the smoke generator is disappointing, necessitating more spending if you wanted smoke.
Last edited: