dunnyrail
DOGS, Garden Railways, Steam Trains, Jive Dancing,
25 Oct 2009
15,428
639
71
Just recently I have been worrying about my Russell that has not been capable of running for year or two now. It would be rather nice to use it for the Christmas Day Milk Train this year. In point of fact the last Time I recall running with any degree of usefulness was at the Ruscbahn in 2013, though I may have had a run or two on my current line since then. Memory what a problem?
Now I consider myself to be a reasonable dab hand with Live Steam, not in Tag's league but with a mediocre level of incompetence. So Russell has been a problem, not being able to supply Steam to the Cylinders, thus just not running at all. I think I asked Roundhouse about it at Warley Show some 4 years ago. Hmm needs to be sorted. So off came the Body and I started to faff around. To be honest the only thing that I found amiss was the Wire from the Servo to the Regulator that was not allowing full movement and thus opening of the Regulator. In the past the Regulator was a little reluctant to close thus stopping required a little bit of Reverce Gear. So after some adjustments and testing with the RC to see if the Regulator was now working all appeared fine. Oh I also forgot to mention that somehow I had inadvertently flogged the Planet RC Unit! So I had a Fosworks Setup in stock and he is now sporting a Fosworks OMNI TX 3-0, now standard on my 3 Roundhouse Live Steam Loks..
Jack was painted up by Geoff Monday in 2006, has a Chuffer Pipe and I collected it from a guy in Nottingham after a winning EBAY bid at around £1200. Now that he is running again this seams to be a pretty good deal. Pic on the shelf this morning.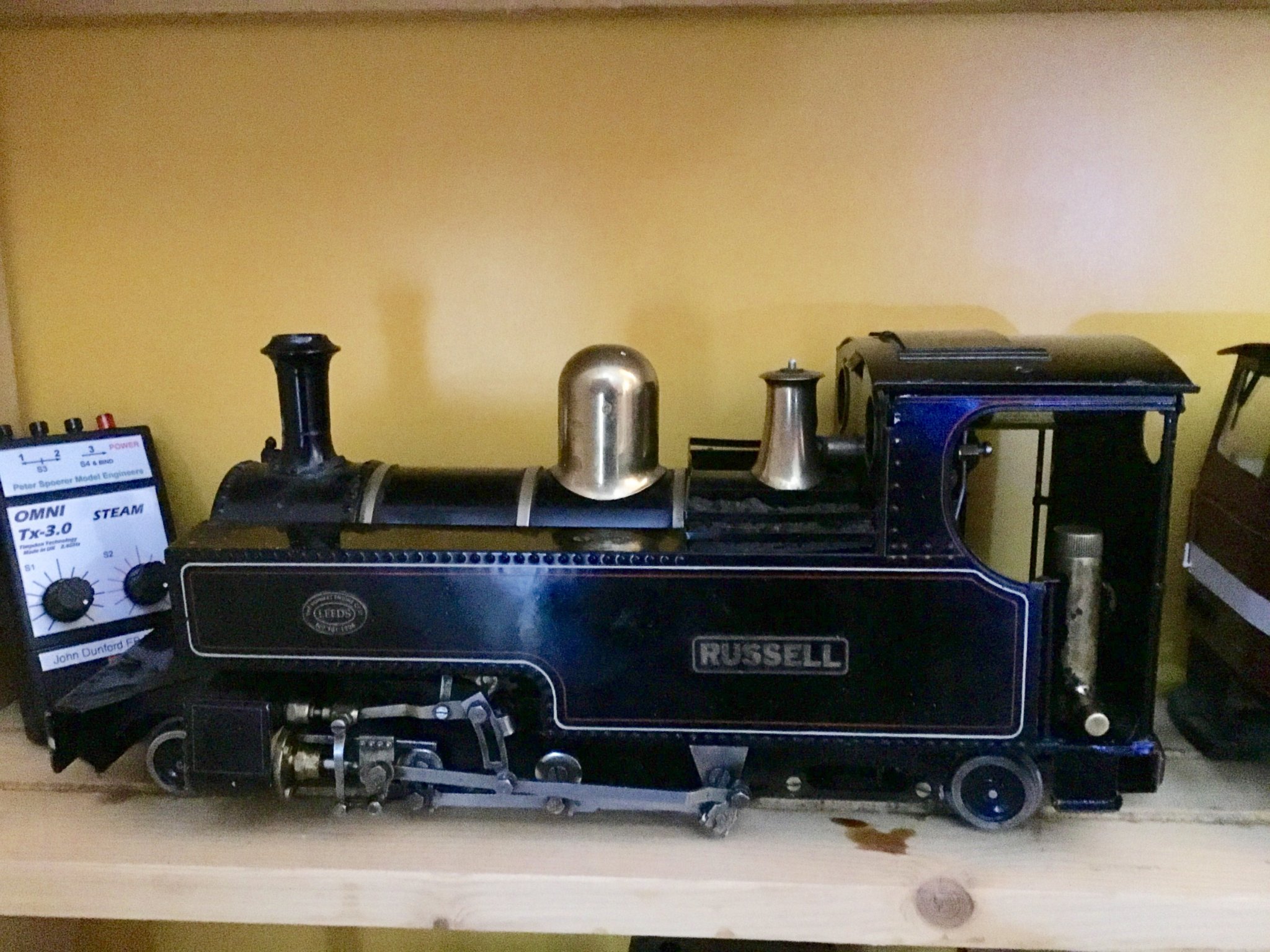 And a short Vid of him Running the other day after the fix.
As can be seen a common trait with Live Steam, slow steady running is a little tricky. Even harder when trying to drive a Camera while doing a Vid. Thus Russell is slated to be fitted up with a SloMo at the earliest opportunity. I am assuming this should be possible as PPS does one now for the Lady Ann. But as with my old Jack the Weight Bar is a Pin Fitted Curves one that makes fitting a SloMo less than the easiest of Jobs. But it must be done.
Last edited:
3