I've been lurking around the forums for a while collecting information and getting ideas so I thought that I'd introduce myself.
Although I have a few years of HO scale railroad modeling indoors, I'm new to G scale railroads outdoors.
I live in the high desert outside Santa Fe, New Mexico and am considering modeling anything from the 1880s to 1940s, the time period that the D&RGW overlapped with the AT&ST in Santa Fe, but I'll probably violate that in time. I'm not thinking about having many structures or anything other than native grasses and plants. I've attached a picture of the general area that I'm planning on using.
I've gone to a few HO scale operating sessions and enjoyed them. But I'm not planning for that in my G scale railroad. I'm thinking of a continuous layout where I can have a few trains doing their things while I sit back with a glass of wine and watch.
So far I've collected a couple of new Piko steam locomotives and some rolling stock. One loco came with DCC, digital sound and steam. I had to install DCC, digital sound and steam in the other. I was happy to have good instructions/videos from Piko and to have a loco substantially larger than I was used to with HO scale. Following that I converted both locos to battery power and Revolution DCC wireless control. I wanted large capacity batteries and one of the locos was a small Saddle Tank with no tender so I installed the batteries and Revolution DCC receivers in a trailing car. That went well so I extended the DCC bus from the trailing cars through a number of other cars for lights and animations.
I've been so happy with the Revolution DCC products that I'm considering adding another battery and Revolution receiver on the ground someplace just to control turnouts and accessories. That's not certain yet.
It's getting warmer outdoors so I'm getting ready to finalize track plans and lay track. I have a 130 foot by 65 foot space reserved in our yard between our house and a floating deck at the end of a crusher fine path. It has a gradual 1 to 3 percent grade along the 130 foot dimension and largely level across the 65 foot dimension. I've testing the range of the Revolution DCC transmitter/receiver and gotten good connection from one end of this area to the other. I've attached a satellite view of the area with my plans so far.
After seeing it in Portland last year I've chosen TrainLi brass code 332 track and intent to use their flex track and an EasyBend DuoTrack for everything except for TrainLi R4 (in a storage yard) and R7 turnouts. Since I am going with all battery power I don't really care about electrical connectivity and won't put power on the tracks. I do care about how it looks and how sturdy it is.
The plan starts with a folded figure eight of about 70 feet of track on a very level area near the house. It seems the easiest/best place to start. The curves have a 8 foot or greater diameter which is sufficient for the locos and rolling stock I have now. That part of the plan is in orange.
The next part of the plan, shown in magenta, is a pair of reversing loops or dog bone with only one connecting track in the middle. I had started with the more standard double track in the middle, but then it would be just one loop instead of allowing for every alternate cycle the train to go the opposite direction around the loops. I just need to use non-derailing turnouts or wire them to automatically switch as such. Piko's turnouts all claim to be no-derailing and would work, but I don't know how long the springs will last and if they'd just be too troublesome. That drives me to think about track magnets to control the turnouts. It also might drive me to JMRI, but I spent a career with computers and don't want to carry much of that experience into my hobby. Maybe a few Arduino's, but not too many. I haven't thought this though enough yet. Any advice would be greatly appreciated. ... The tightest curve/turnout would be 14 feet or greater in diameter. I may want to buy larger locos someday and want a portion of the track to permit that.
Following that I'd probably tackle the turquoise part of the plan next. It a basic oddly shaped loop with one opportunity to reverse directions at the left of the attached image. The tightest curve/turnout would be 14 feet or greater in diameter.
Next I'd do the green part of the plan. I have no idea what to call the pattern, but it allows a over and under crossing with a trestle that might be showy.
The last part of the plan, in yellow, is a storage yard with an adobe brick 'shed' to store rolling stock in. I'll probably build the 'shed' to hold 8 track each about 10 feet long and top it with a lean too roof that hinges up to open. That's way more space than I think I'll need and not too hard to build.
Anyway ... That's where I am with my plan so far. My biggest questions right now are concerning how to automatically control the turnouts between the reversing loops/dog bone track.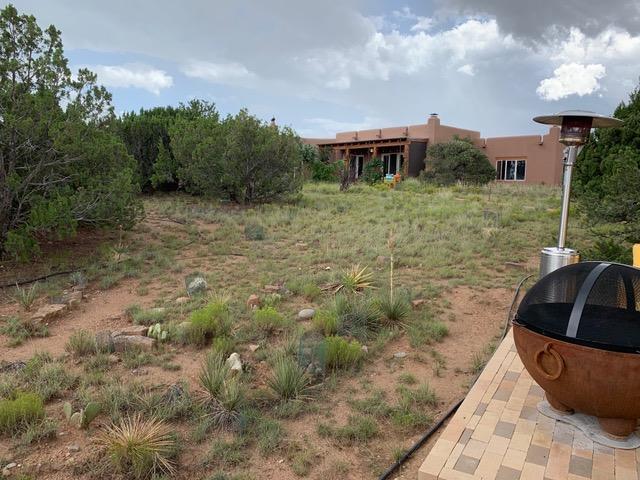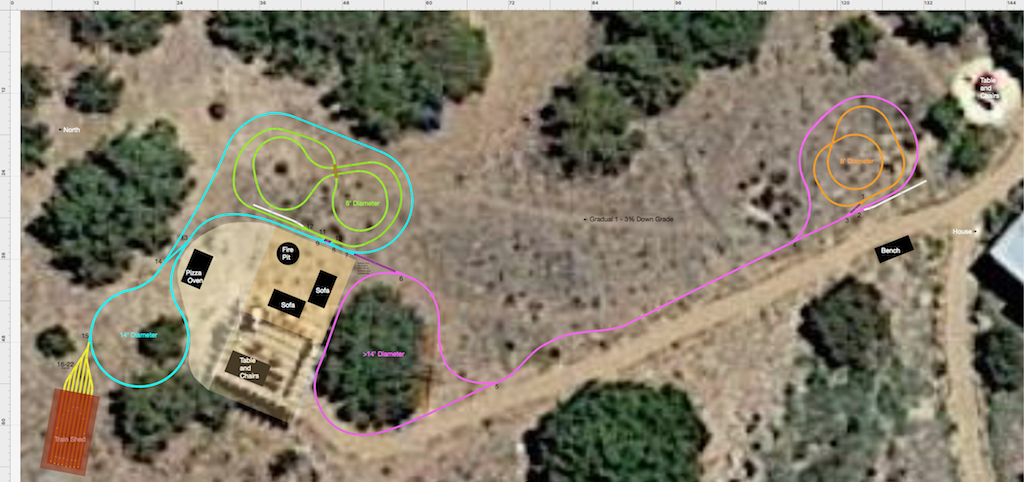 2