After a wait of almost a day and a half [!] the first of the latest series of SAR passenger cars - in kit form - arrove on my doorstep about ten minutes ago.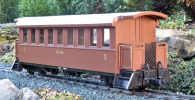 There are three different formats in the series, and will look great behind my NGG16.
This is Davids [Williams'] accompanying blurb -
CGR/SAR U-2 'Walmer' Suburban Carriage
The Walmer Branch opened in 1906 and was a 'passenger only' line, built to connect the suburb of the same name directly to Port Elizabeth. A pair of very elegant Bagnall 4-6-2 tanks were provided as the prime motive power for this service, along with three distinctive balcony carriages; designated U-2. Bench seating was arranged along the side walls and a partition divided the first and third-class compartments. Whilst three vehicles were built, photographic evidence suggests that 2 of these vehicles, in company with a Brake Composite was a normal formation.
Despite a high frequency of service, by 1926 the local motor buses had won most of the passenger traffic and the line was closed. Whilst the carriages were initially put to use on the main line to Avontuur, they ended their days in South West Africa, with the last being cut up in 1961.
The majority of this 16mm scale kit follows the usual Resurgam Rolling Stock philosophy of hidden slot and tab construction techniques, allowing positive location. However, to obtain the multi-axial roof profile, a hybridised roof-sheet technique has been employed. Whilst the outline of the roof sheet is defined, to aid easy and accurate placement, the inner plank lines have been cut-through to provide the flexibility required to take the form of the roof line. As such, the roof will require covering with a material of choice; as there are several options for this operation, it is left up to the builder to choose the method which suits them best.
However, for those who are unsure, a suggested method for covering with tissue paper (not supplied) is included in the instructions. It should also be noted that whilst the beading which runs around the edges of the roof is not unduly complicated to fit, a little patience is required.
This is of course the ideal accompaniment to Andrew Giffen's superb new model of the 'Walmer Bagnall', as well as the 1930s on the Avontuur line or indeed the later years of the Otavi.
Although prototypical for SAR, this bogie vehicle would look at home on most 16mm scale railways and its loading gauge would complement many of the medium and larger sized generic live-steam locomotives currently on the market.
Specification
- 16mm Scale Laser Cut Kit available in MDF or Plywood
- Proven, hidden slot and tabs construction for easy and accurate assembly
- Fully fitted interior
- Dummy Brake Detail
- Individual glazing panels, complete with droplights modelled in full relief
- Coloured copper wire is supplied to make the handrails and door handles
- Includes 'SAR style' Plate Frame Bogies', complete with steel wheelsets in either 32 or 45mm to suit your preference as well as suitable bearings.
- Does not include couplings, vacuum pipes, lettering or roof covering material.
Dimensions
L:476mm (Over Headstock)
W: 121mm (Over footboards) 108mm (body)
H: 150mm above railhead
Availability: Normal, 28 day, maximum lead time.
Price:
MDF: £115.00 each plus P&P
PLY: £125.00 each plus P&P
To Order: Please e-mail:
davidlwilliams42@btinternet.com
With many thanks and best wishes
David Williams
A truly-gifted modeller, Andrew Giffen, here in UK, build the definitive locomotive for this line - priced at around £2500 or so, it is a true masterpiece of model engineering in every respect, and goes as well as it looks.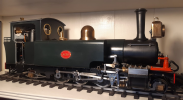 3