Recently infected by narrow gauge US train after a trip on Durango and Silverton RR (2105), I built (quite) from scratch, from Bachman parts and blue prints made from pictures or master class.
They are made to run on a garden track for the litlle (and older) child.

An other one is waiting on the "factory yard": a 1/20 Mason Bogie - quite difficult and with a lot of improvisation: the motor is from a Bachman 030.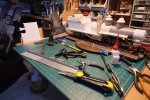 Happy to share with enthousiasts, an please, forgive my english!
5

5