SevenOfDiamonds
Registered
I'm looking to add to my rake of green and cream coaches (LGB 34640 - produced from 1996 to 2000, or thereabouts) . . .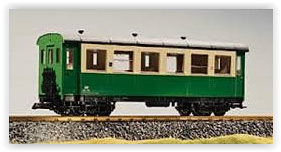 If you have one (or two) that you no longer need I would be interested in buying them. Alternatively, I have a couple of the Murtalbahn ones in blue and cream (33640) that I could swap.
If I have no joy, I'll end up repainting the blue ones into green. Has anyone found a rattle can that is a good match for the green paint on the 34640 coaches? It seems to be the same colour as LGB used on their 32620 "Steirer Bar" coach but, as that doesn't have any cream in its livery, I'm assuming it was moulded in green plastic, rather than having a paint finish. I have emailed Marklin to see if they can offer me a RAL number but they merely say that "
The model was not built under the direction of Märklin
" and that "
documents from the LGB model 34640 are no longer available
" (which I presume means they no longer have the old production records).
All the best
David