3d printing, electronics and trams
Having acquired a laser cutter, I thought I should put it to good use. I designed a 3D print version of the Wisbech and Upwell coach and although it was OK, I thought a wooden kit might look better. Progress so far below..
This coach is a bit of a fiddle, as it's actually the shorter rigid wheelbase body, but to get it around tighter curves, I've put it on bogies. This is not uncommon however, as at least one other manufacturer offers their coaches with bogies even if they should be rigid chassis.
Having built this prototype, I've redesigned the bracing, so that it's integral into the body frames, along with a central roof beam, and I've also added in some steps and bench seats as well.
Fine detail is 3D printed in resin and filament, so I will soon be ready to complete the coach.
I will share the 3D print version at some point once finished, but my focus is on the laser cut version right now.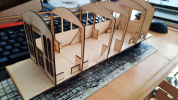 11

2