idlemarvel
Neither idle nor a marvel
Some members have asked me to write this up. I couldn't decide whether to add it to the electric loco thread or new layout thread, so in the end I thought I would start a new thread with some thoughts on adding overhead wires to my indoor layout.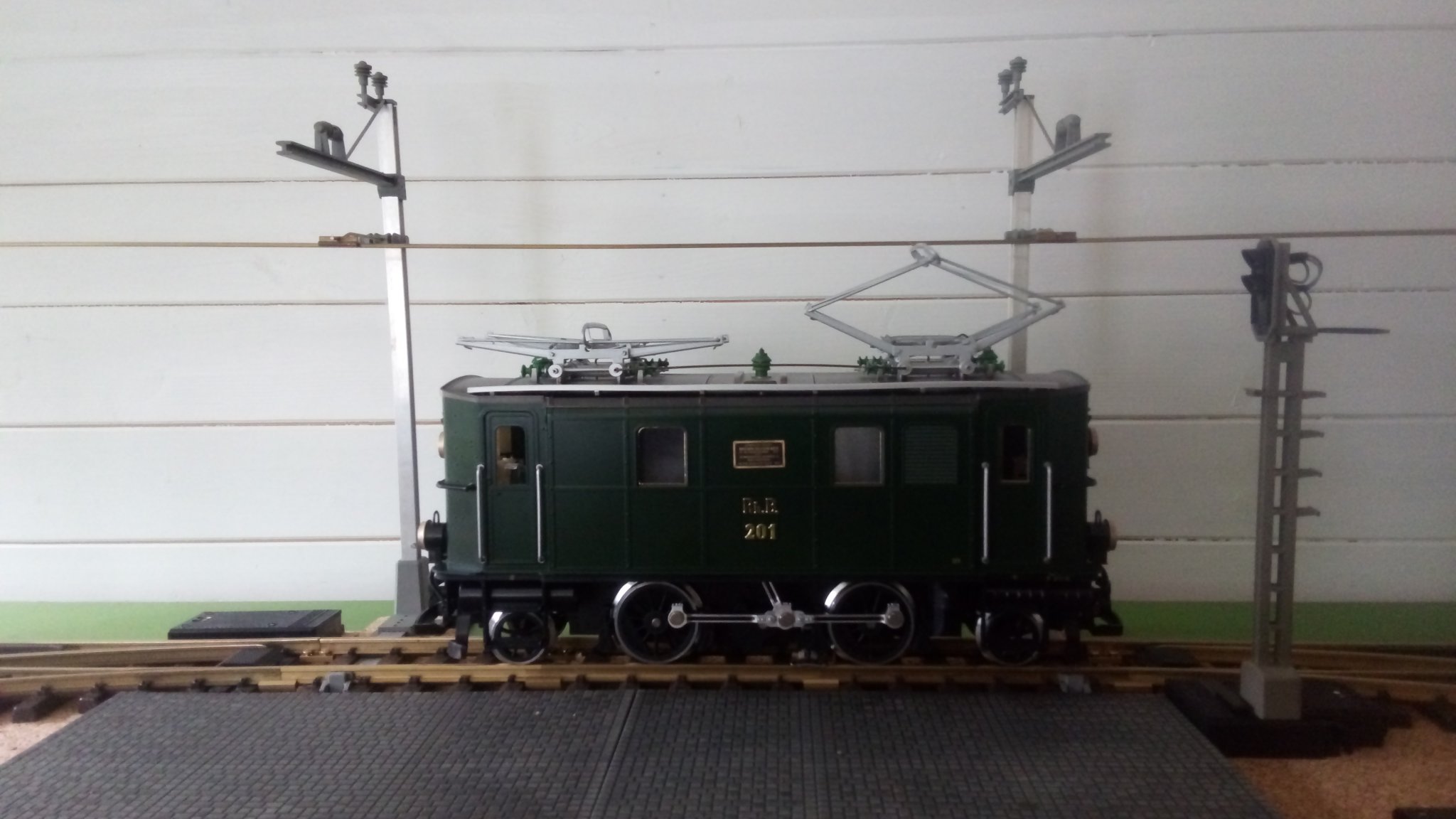 As some of you may know, there are two types of catenary available from LGB, what they call "standard" which are the street tram style, and "modell" which are modelled on RhB infrastructure. Both use the same catenary wire and bases. Oddly LGB sell the masts without bases, which brings up the nasty subject of cost. The UK retail price for a new single RhB style mast (part 56301) without a base is about £25 and a base (part 56302) is about £7, so that's over £30 a mast. The standard masts (part 56405) are cheaper at about £12 (without base) but don't look quite look the part for a railway.
As mentioned, both styles of mast use the same basic catenary wire (part 56201) which is quite rigid and has a kind of "figure of eight" profile to slide into the clips of either style of mast. In addition, RhB masts allow you to put up the catenary hanging wire (part 56202) for added realism, but for that to be effective, as far as I can tell, you really need to have the masts a standard distance apart. That is difficult to achieve on an indoor layout with R1 curves and points, so I decided to do without those.
I only wanted to put wires up over part of my layout so I only need about 12 masts, but that would have cost over £400 new including wire and bases. Time to look for second-hand masts! These are quite hard to find but fortunately someone on this forum put me in touch with someone who had a lot of masts (both kinds) which were used but surplus to requirement, so I got what I needed for £10 per mast with base.
Erecting the masts is simple enough. The bases have a clip that fits between sleepers (on LGB or PIKO track) and the distance of the mast from the track can be adjusted to allow for curves or to provide the prototypical "zig-zag" that spreads the wear of the wire over the width of the pantograph.
Fitting the wire is easy enough for straights, you just thread the wire into one of the catenary clip grooves and slide it along to meet the next mast, then trim the wire to suit. Each mast clip has two grooves side by side, so you can alternate the clips as you go along (see diagram). I found that if you use the full length of the wire (about 65cm) without the catenary hanging wire it does start to dip in the middle (probably less than 1mm but noticeable), so I kept mine to about 55cm max. This is way closer than the scaled prototype but my layout is also way smaller than any scaled prototype.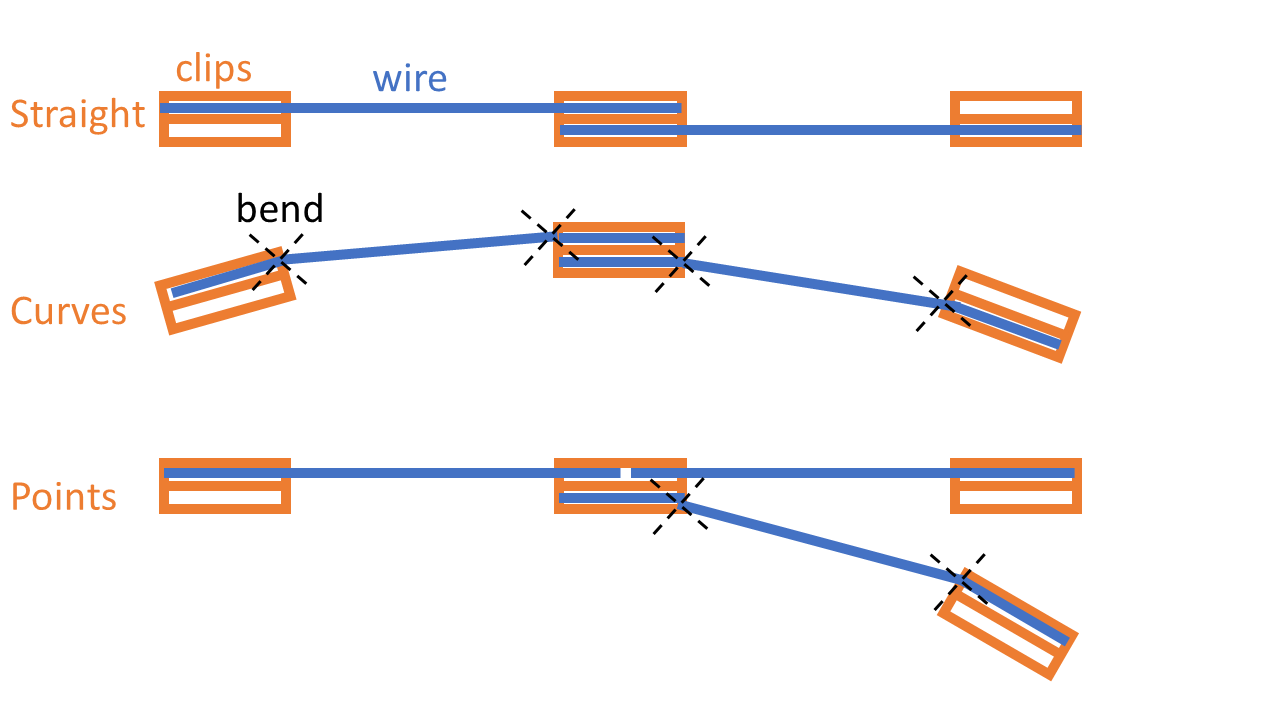 Curves are much more difficult, especially R1 curves, as you have to ensure the path of the wire does not stray beyond the width of the pantograph. This requires a lot of "dry fitting" to get the arrangement of catenary masts, distance between them and distance from the track centre correct, by pushing a loco with pantograph under the wires. Once that is settled, you can fit the wires in the clips and trim them to size. You have to bend the ends that fit into the clips so that the wire is straight between masts (see diagram). Again "dry fitting" is required before any cuts are made.
Points are an added difficulty, but if you do the curve first it is relatively easy to add the straight section afterwards. On the mast where the wires diverge, I found it best to use one clip groove for the diverging wire, and the straight wires to join inside the other groove (see diagram and picture).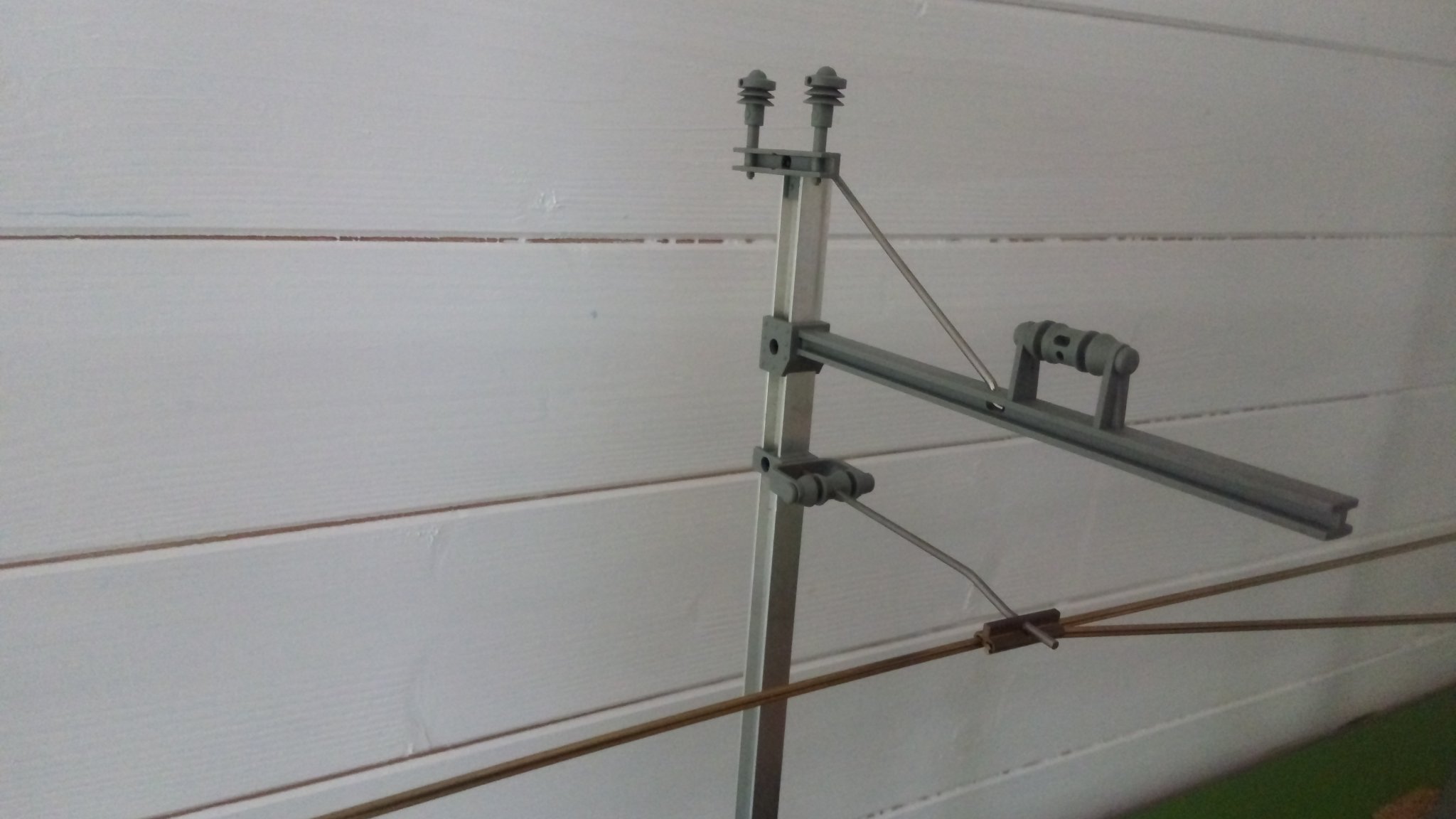 Masts on straight sections will stand up straight just using the base clipped between the sleepers, although screwing them to the baseboard is desirable, but on curves there is some inward tension so you need to screw the bases onto the board to stop the masts tilting (see picture).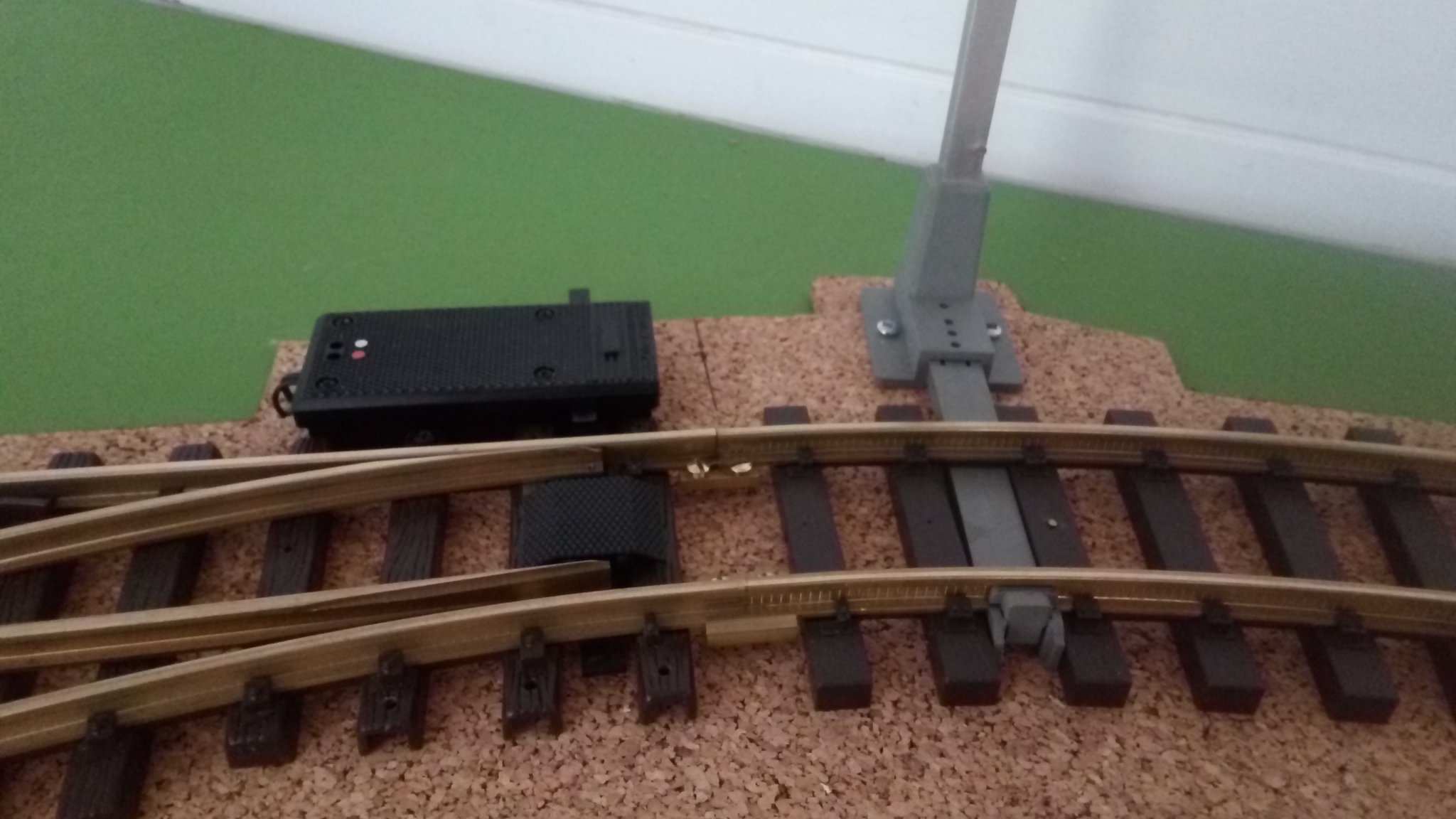 I use DCC so I never intended to use the catenary for power, but it would be easy enough to do so. There are special clips available to provide isolated power sections.
I did experiment with using copper cable from ring mains cable for the catenary wire, but I found it did not have the necessary rigidity. Compared to the cost of the masts, the wire (comes in packs of 12 lengths each just over 2 feet long) is not too horrendous (about £1 a foot new).
There are other ready-made masts available that are more realistic than the LGB ones, but they look flimsy in comparison. Like most LGB goods their catenary is expensive but built to be used and to last.
Another option would be to build your own masts, and I know other forum members have done this. With some H section extruded aluminium and access to a 3D printer it would not be hard to knock up replicas of the LGB RhB mast, but I don't have either so happy-ish to pay £10 the premium.
It took me best part of an afternoon to install 12 masts and about 20 feet of wire but I was learning on the go. I could do it again in about an hour or so. I am pleased with the result, and so far it has stood up to operations. If a loco with pantograph raised leaves track which is wired, the pantograph just pops up to full height and no harm is done. The same is not true the other way around. If you run a loco with pantographs up from track that isn't wired to track that is, bad things happen, potentially damaging the pantograph and/or catenary wire and mast. You have been warned!
Hope this is useful. Feel free to ask questions here or PM.
4

2