3d printing, electronics and trams
Hi there.
After years of 00, 009 and the odd bit of 0, I've decided to go a bit bigger! Plan is for a 30M line in an L shape around the garden, with a loop at each end to give continuous running if required. I'm going to use Cliff Barker Gauge 1 track, as it's a bit lighter and can be bent into nice transition curves quite easily without the need for a rail bender.
I've built my first bit of stock - an Occre Istanbul tram. This is motorised with an axle hung motor and is powered from a lithium ion battery and small speed controller. There's a sound module tucked underneath with a couple of bell sounds and a 3 channel radio control system, so that it will run without track power.
It sits on Slaters wheels and I 3D printed the outside frames to suit. -https://www.thingiverse.com/thing:4615884
I added 1mm x 1mm LEDs to the headlights and some LEDs to light up the passenger cabin.
Next project will be the London tram. Already wrapped and under the Christmas tree!!
Happy to post some more pics of the build and final result if its of interest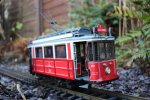 9