3d printing, electronics and trams
Hi All.
I've just upgraded to a Creality Ender 3 Pro and no longer require my older CTC dual extruder printer. If it is of use to someone and they are able to collect it - or meet up somewhere, I would be happy to give it away.
Good points:
Upgraded CTC 3D dual extruder printer, solid work horse and well supported.
Fitted with enclosure, so easier to print ABS without warping
Fitted LED lighting so that you can see how your print is progressing
Uprated spring extruders and hot ends, so less jamming and easier to clear if one does happen
Lots of cabling replaced with better quality, more flexible types for better reliability
New quiet fans fitted to extruders and main board
New power supply fitted
Can print virtually all materials including PLA, ABS, PETG, Ninja flex etc. Happy to throw in samples of all of these for you to play with
Bad points:
SD card reader broken. If you are handy with a soldering iron, I would imagine it could be changed, but as it will print from a laptop via USB, I've not attempted to repair or replace it
Thermistors have been replaced and are not reporting quite the correct temperature. This therefore needs a little bit of guesswork to get the best temps, but I can supply guides as to what works for me
On the original firmware. Probably worth updating, but it is a bit fiddly to do, needing some older software and pressing a reset button at just the right time
Looking a little careworn, as it produced over 5000 buttons last year to support NHS mask expanders. Since then I have overhauled it and fitted new hot ends and tightened everything up, but the heavy use has left it looking a little worse for wear!
These are an earlier generation machine, so accuracy and repeatability are not as good as more modern designs, but as you can seem from the pictures below, quite good enough form most modelling. You may see the odd wavy line or scar on the final print, but generally I've enjoyed excellent success with this printer
I will throw in a bunch of spares, including build platform material, hot end blocks, nozzles and liners, along with some part rolls of filament. I will also share the factory and offset settings to get it to print correctly and if you want to collect it from me in Grantham, Lincs, I will happily demonstrate it working.
I work down in Hatfield, Herts, so if you wanted to meet me at work or somewhere on the A1, more than happy to do so.
Feel free to discuss on here or send me a PM if interested.
Thanks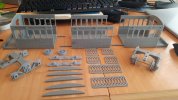 1

1