Hello friends, I am sending you photos and a link video of a new finished project, a beautiful French building with a flower shop on the second floor.
Merry Christmas and Happy New Year
Jaime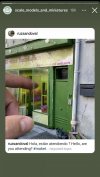 Copy in your browser:
Welcome back to Instagram. Sign in to check out what your friends, family & interests have been capturing & sharing around the world.
www.instagram.com
8

5