This thread is to briefly describe the construction of a locomotive shed with an electrically operated door.
This engine shed is made of 2 parts:
a) a main building and
b) a door module.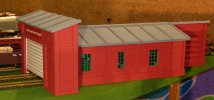 My main motivation was the door construction!
So the main building is quite crude, I am not an artist like many on this forum ..... !!
This construction has just had the honor of an article in the web review:
MRH (Model Railroad Hobbyst) from August 2020

Normally it is in pdf and available for free but this article is in the paid part (Running extra).
So it's just $ 1.99. This review is mostly O, HO and N !! But there are articles which are very interesting.
The main element of this achievement is the motor block:

The following video shows the rolling shutter in operation.
6