24 Oct 2009
4,656
6,008
70
Although the time since I completed the Claptowte Railway goods wagons can be measured in years, I never got around to creating and goods for them to carry. I recently created some folded empty coal sacks to adorn I.P Blacks storage bins at Gernise End Station. I did this by cutting off the doubled over hem of an old cotton bed sheet, that I used as a dust sheet when decorating, and cutting it into suitable lengths.. It further occurred to me that I could use this material to create filled sacks for use as freight on wagons.
I started by cutting off and trimming the remaining hem.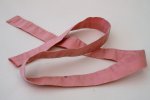 Next, gripping the end in a bulldog clip, I introduced some superglue into the top that both sealed the end and stiffened to opening.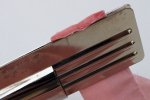 Having cut the sack to length I then filled the sacks from the bottom end using split red lentils (other fillings are available). The last thing to go into the bottom of the sack was a small plasticard offcut. The plasticard was daubed with superglue and the bottom of the sack was then folded over to stick to this to seal the sack and at the same time provide a flat(ish) bottom..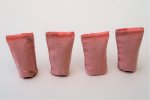 The finished sacks were then painted a suitable sack cloth colour and labels were were glue on.
Altogether I was able to make twenty-eight sacks. I decided the most appropriate wagon to load them onto would be the Claptowte Railway Goods wagon No 9, the Tarpaulin Wagon.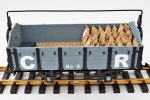 David
Last edited:
3

3