24 Oct 2009
4,656
6,008
70
The Claptowte Railway was in need of some platform trolleys. There are white metal kits out there, but at a price. I felt that it was well within my modelling capabilities to scratch build one out of plasticard but the stumbling point was going to be suitable wheels. The answer came when I read how ge-rik had created the wheels for his scratch built coal weighing scales, a method that I subsequently copied when I scratch built my own.
Basically the wheels are created using Peco plastic 'OO' scale spoked wheels. The pointed axel extensions were cut off and filed to produce a flat hub, then the axels are cut in half and the stub gripped in the chuck of a power drill. The wheel is then spun in the drill and a file offered up to remove the flange, to produce a flat wheel.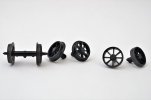 I was fortunate to have some brass tube in the oddments box that was the right internal diameter for the stub axels to be a push fit. The new axels worked out at 30mm in length.
The load bed of the trolley was a piece of 1.5mm plasticard. When it was marked out the planks were scribed into it. Having done that, some wood grain was simulated by the method of dragging the blade of a razor saw across the surface. The bed was then framed using 1.5 x 2.0mm plastic strip. Some 1mm self adhesive pearls were added at the corners to represent bolt heads.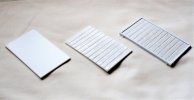 The underframe of the trolley was made using 4.0 x 1.0mm plastic strip. The brass tube was supergued into a length of 4.8mm plastic channel which was glues across the underframe. As the model was for static display I did not go to the unnecessary complication of making the front axel pivot. The draw bar was also made from 4.0 x 1.0mm plastic strip with a cut off dress making pin used for the link pin. The hand rail was 1.6mm brass rod.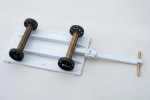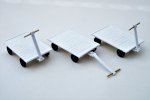 The colour scheme copies the Claptowte Railway standard colours of maroon and cream with an unpainted natural wood load bed. Claptowte Railway lettering was produced on the computer printer and stuck on the sides.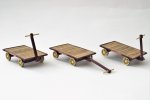 David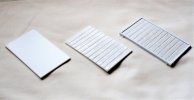 Last edited:
11