Dear all,
To be honest, I do not like too much Occre wooden trucks and motor systems. Bachmann same story. There are better solutions.
A first attempt with the Barcelona tram is shown here, in two versions.
One motor set came from the UK (bad result with flimsy chinese motors),
The other one from le Train Magique in France, with Mashima motors and brass gears.
See Barcelona
Something more interesting with a Cairo tram set.
Heavily modified and improved Bachmann trams, with laser cut PET sheets,
Laser cut metal frames, own design for motor and gears.
These models were exhibited in 2020 at the Bois-du Luc museum (Belgium) during three months, as part of displays of Belgium exports to Egypt between 1850 and 1950.
See Cairo
Improved Occre model, with many personal add-ons, including correct paint, transfers, bow collector, etc
Last version: laser cut frames and totally new "universal" motor and gear system. Powerful with Swiss 8 W motors ans 1:25 gear ratio. Compact and can be used under floor and for bogies as well.
This model is presently exhibited at Trainworld (Brussels train museum) as part of an Orient Express exhibition until april 2022.
See Istanbul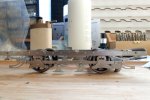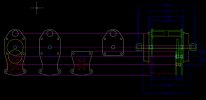 Regards, Philippe
Last edited:
4

3