3d printing, electronics and trams
I'm not sure how these things happen, but a DLP resin printer appears to have found its way into my possession!
£120 including 3 litres of assorted resin, a curing enclosure, 4 litres of IPA and a bunch of spares seemed like a very good deal!
Some test prints tomorrow and then time to print up some detailed parts for my next build. Can you tell what it is yet??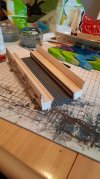 2