BakerJohn
Baker, Modeler, Flour Ambassador
After my initial planning of this loco with Phil's help we said that we would share all planning with the forum. Since the planning process itself would get confusing I decided I'd share a wiring diagram. I found that DigiKey has a free online program anyone can use that is very user friendly.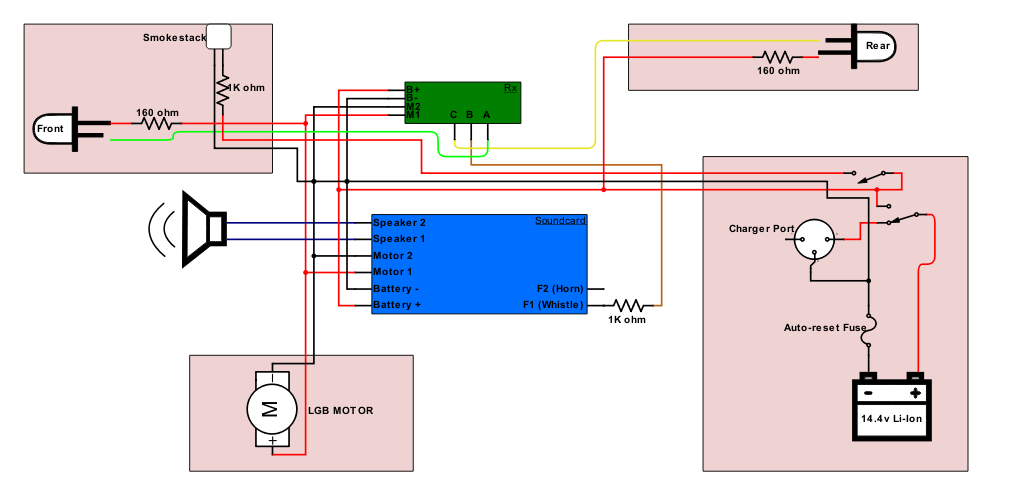 Each section is (or will be) isolated with a set of in-line connectors. I couldn't find such things in the options available. The only exception here is the motor block; a small modification from the LGB plug, both wires come off their pins separately.
The RC Trains Rx pads A and C give 0v when activate, so the LEDs are wired backwards, each with a 160 ohm resistor in the positive lead. The lights are incredibly bright and I probably would use a slightly higher resistor were I to re-do this locomotive.
In addition, Phil suggested a 1K resistor in line each the smokestack and connection between the Rx and MLS Soundcard. I only have one button on my transmitter, so I can either set it to play the whistle or horn. At the moment it's connected s shown, but I may prefer the horn (bell, in my loco's case).
You will notice that the smokestack is on it's own switch. Since I certianly don't plan to use the smoke constantly Phil suggested that I isolate it completely.
My SPDT main power switch is an ON-ON so the engine is either set to RUN or CHARGE. Obviously without the charger plugged into the locomotive it creates an incomplete circuit.
Finally, an auto-reset fuse is recommended in-line with the battery to protect things further.
You know though, as I am writing this I feel I have few things backwards...