UK/US/ROW steam narrow gauge railways 1:1
Here, I hope, should be a fairly simple conversion. My plan is to remove the track pick ups but I would like to retain the circuit board so I do not have to mess around with the wiring that is there for the motors and LED's. Yes, I have had a look at George Scheyers pages, where there is a conversion of this product shown but I don't want to go down his suggested "ditch the board" route.
My question is where do I solder in the outputs from the ESC to power the thing and could I make use of any the 4 terminals rather than soldering into a point on the board ? I have included the schematic for DC operation and the table for connections for both DC & DCC connections. I have not shown the DCC schematic that Bachmann supply.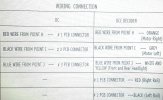 Just so you know the Battery/TX/RX/ESC/Sound unit is a fully wired up and ready to go Foswowks package with the "correct" MLS petrol railcar sound card. This will be enclosed on the load deck with a scratch built "garden shed" of the appearance of the one constructed for Goose I in the latter days of its operation. Its will have opening doors at the rear, as per the prototype. Answers made in layman's terms please, prefferably of one sylable if possible would be appreciated. I.E. Which wire goes where and "don't do that, all you will get is magic white smoke". Thanking you all in anticipation. Max