I picked up my first generation live steam White Pass Mikado No73 today.
It hasn't been steamed in two years, so I'm looking forward to firing it up on the rollers soon.
Previous owner has gutted the regulator. Everything else is original. It came with all of the original manuals, tools and accessories, which was nice.
Not sure how much I like the White Pass look but I'm going to leave it as is for the time being to see if it growns on me.
Plans so far are to upgrade the R/C along with an MP3 steam whistle unit and perhaps add a steam line for the water bath.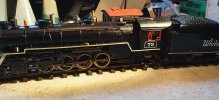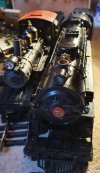 3