Kit bashing, The UK narrow gauge, The GWR, Aviatio
I have a problem in a part of the garden where the embankment for the line is becoming a dam during wet weather. The resultant boggy bit is killing (has killed!) the lawn in that area. So I need to remove part of the embankment to allow the water the flow away - into the neighbour's garden. To bridge the gap I'm building a four foot long aluminum truss bridge.
The first side is complete an all the components for the second side and the top and bottom linking parts are cut.
Sunday promises to be a day of drilling and riveting.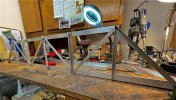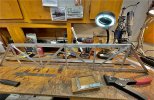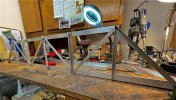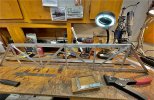 7