My son and I (okay, mostly my son after I showed it to him) decided Swift Sixteens prop-powered Flash looked like just the sort of silliness that was needed, so building commenced.
Ive built other Swift Sixteen kits and very much enjoyed them, however this is the first 'loco' I've tried.
The Robotbirds electronics package for it was used (sans connectors, battery and radio as I had parts I could reuse)
A few nerve wracking construction points exist. Most notably the motor installation, since the whole thing needs centering in the prop hoop. I followed the instructions and did plenty of measuring and double checking with calipers. I think if I was doing it again, i might opt to fit the motor and then the hoop as this seems to be a more flexible order in terms of getting it all centred.
Cooling ducts were cut into the side of the body to provide airflow to the motor, as advised in the build notes

A spare reciever from the kit used for the live steamers was pressed into service and the brake servo plumbed into channel 2 - pulling the right stick left applies the brake. It feels natural, but I may look at mixing it into the throttle channel so that it is applied when the throttle is shut off instead.
The motor and ESC run off a 3s LiPo which provide power to the receiver as well as the motive power.
Copious use of zip ties ensure everything stays where it is supposed to and doesnt interfere with anything it shouldn't, in what's quite a confined space.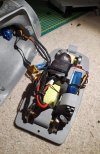 A quick test of the setup can be seen
Here
Straight after I'd finished getting it all sorted and taking a picture, I realised I'd installed everything with the floorpan reversed, so out it all came again. Removing the superglued servo mount should ensure I check things twice before fixing them

Now everything is round the right way, it's a case if waiting for a break in the weather to run it.
A video will be taken for posterity as I jave a nagging feeling the nature of this bonkers creation may mean the maiden run could easily also be its last

3