musket the dog
Professional engineer, amateur modeler
Hello everyone,
I've not shared a lot of progress with my own railway for a while but I feel like my latest big build has progressed far enough to be of interest, plus recent world events have forced me to spend a lot of time evaluating the large pile of unfinished projects I currently have hanging around my workbench.
Like everything I start this project has taken a while to build momentum. It started in 2017 during a visit to the lovely museum at the Isle of Wight steam railway. While looking through the exhibits I learnt that before the island became synonymous with Adams' 02 and Stroudley's Terrier the island was inhabited by a large number of Beyer Peacock 2-4-0 tank engines.
There were several variations on the theme being built from the first half of the 1860's into the end of the 1890's. Many lasted to serve under the Southern Railway during grouping until eventually being replaced by locomotives inherited from the mainland lines. There are several pictures of the locomotives (and the island's railways) available here:
Isle of Wight Railways
Like all my previous scratch builds I do my planning in CAD software. This allows me to move everything around and mess with dimensions to get a good balance between looking 'right' with my existing stock and there being space for batteries, the motor and everything else needed to make it go. My design is 'inspired' by they locomotives instead of actually being based on a single engine. I've gone for somewhere in the middle of the build life, with a more ornate cab, but a smaller boiler and simple smokebox. I try to stick to something around 1:19 and 2'6" gauge, so the W&LLR Beyers were studied too. To suit a narrower gauge, I've moved the cylinders outside the frames and proportionally made the cab taller.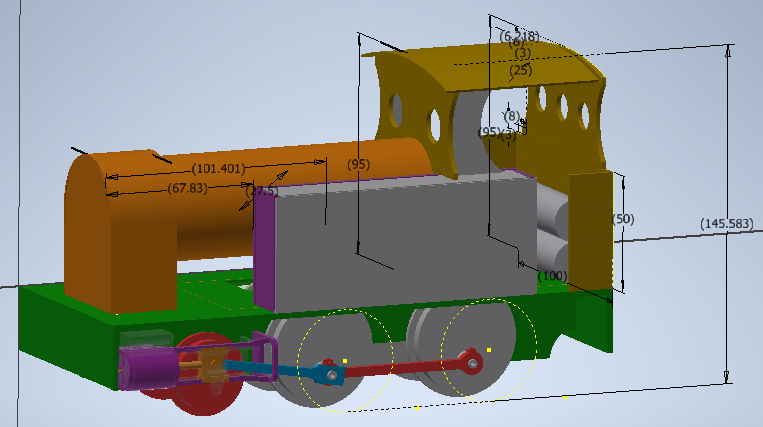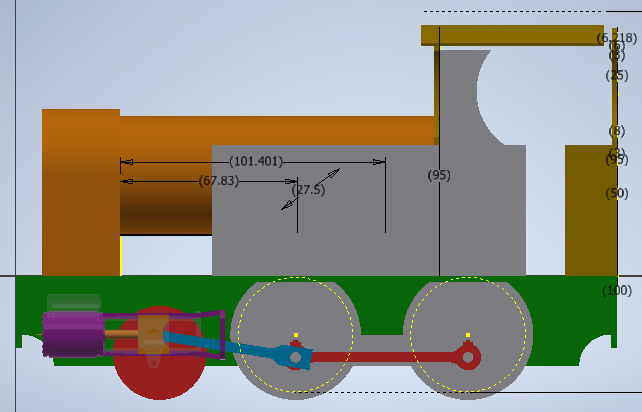 Last edited:
1